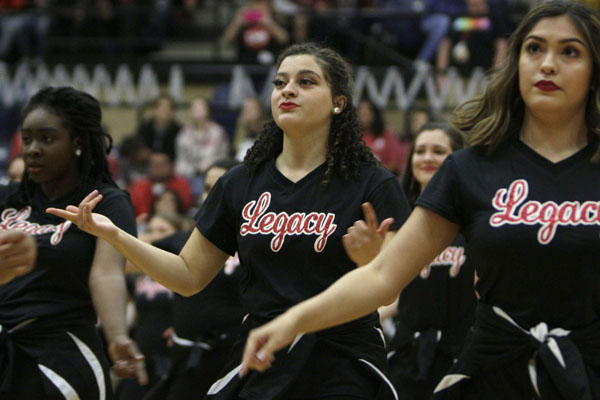 As a biracial person, junior Christine Holley feels the constant bustle to find a balance in crowds of dark-skinned people while being the whitest in the room. She struggles to connect and maintain a sense of familiarity in rooms of white people while being the blackest person in the room. Her existence feels like a juxtaposition.
"When I'm in a group of white people and my dad shows up, they're all surprised that he's black," Holley said. "[Whenever] I go to black church[es] I feel eyes on me as I walk in with my black family."
Holley always felt in between the spectrum of beauty standards. From a young age, she recalls the colorism she experienced in the black community.
"[I was] getting bullied because I was 'white' in a predominantly black school," Holley said. "No one wanted to sit by the 'white girl'."
Holley thinks even though her white skin sticks out, her black features, voice, and individuality stick out as well. These features not only cause problems with people of color, but they cause problems with white people. 
"
When I'm in a group of white people and my dad shows up, they're all surprised that he's black.
— Holley
"One time, when I lived with my white mom, there was a new person who lived in the house next door, and my mom became friends with [her]," Holley said. "She told her my dad was black and afterward I couldn't play with her [daughter]. [It] felt like something was wrong with me."

At the age of 10, she did not comprehend the hurt and significance of these events. But now, all of those memories of neglect rush back, bubble to the surface and take the form of insecurity.
"[I'm insecure of my] skin color. Hair. Nose. If I looked black [or] actually looked 'mixed' I would be okay with my curly hair because it's all apart of the black excellence, I guess you could say," Holley said.  "I want one or the other. [Either] completely black or completely white."
Somedays, Holley feels trapped. Trapped in a world that feels created for everyone but herself. Trapped in a flow of indifference. She fights every day to love herself, to love her skin, her mixed heritage and her inherent blackness- everything that those little voices in her head tell her not to love.

"If I was black then I wouldn't be insecure about my skin. But then again, I guess I would feel out of place like a lot of African-Americans in a society full of white people. So I guess there's no way to win," Holley said. "I'm not normal, and I can stand out and it's something that I'm proud of."
Holley's existence feels unique to her and all of her internal conflicts have attributed to the way she sees herself as a black individual. Holley knows the negative perception of her will never outweigh the truth and beauty behind her "black girl magic."
"I love how black people have created such an impact on society. Certain aspects of daily life in the black culture that only black people get," Holley said. "They don't let the racism in America affect them or silence them. The fact that that's a part of me makes me speechless."