Serena Noureddine: The Beauty Business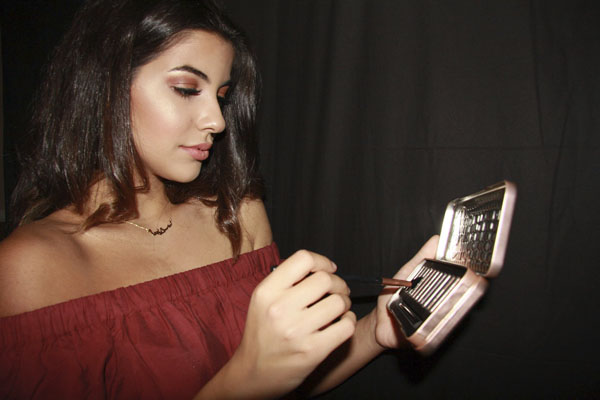 As she walks into the Las Vegas Convention to promote her family's perfume and cologne business, junior Serena Noureddine becomes spellbound at the sight of makeup, clothing, skincare and shoe brands that fill the room. At first glance, the brand War Paint (W7) catches her attention.
W7 grabbed Noureddine's eye, and she immediately became interested in their brand and their extensive list of different products like makeup bags, eyeshadow, brow pencils and makeup brushes. 
"I love business, selling things, being in new environments and sharing how good these products are," Noureddine said.
After the convention, Noureddine got in touch with the brand W7 and they sent her a few makeup samples from their product list. Noureddine liked the products and wanted to sell the products for them. 
"You have to have great leadership and be confident if you're trying to sell makeup," Noureddine said.
As soon as she started working in the makeup industry Noureddine realized she had a strong passion for makeup and business. She promotes W7 makeup and her parent's cologne and perfume business to her clients by posting online at least once a month. This gives her experience in business and customer service. She hopes to one day have her own makeup company. 
"I still feel like working in the business could take me to have my own makeup brand and have my own factory. That's always been a huge dream of mine," Noureddine said. 
Noureddine said selling War Paints Cosmetics turned her life around and made it easier for her when her mom got sick in the hospital with vertigo.
"[My mom] fainting in front of my eyes really hurt me, and I just felt like everything that I did in my life wasn't making her happy," Noureddine said. 
Noureddine's mother, Hiba Noureddine feels proud of her daughter for her work ethic and moral values as a young lady. She feels blessed to have Noureddine in her life through her hardships.
"After my incident, I felt so scared for my kids to see me sick. She was the only one that knew I wasn't OK," Ms. Noureddine said. "I told her, 'You will be mighty in land, make me proud' which means you will be something important one day, make me proud."
Noureddine realized she couldn't take things for granted anymore, and she needed to focus on her present and her future. She got more involved in school, shifted her attention toward getting As and staying busy working with W7.
"My mom made me realize not to take advantage of anything because it might not stay for long,'' Noureddine said.