9 Fall Fashion Trends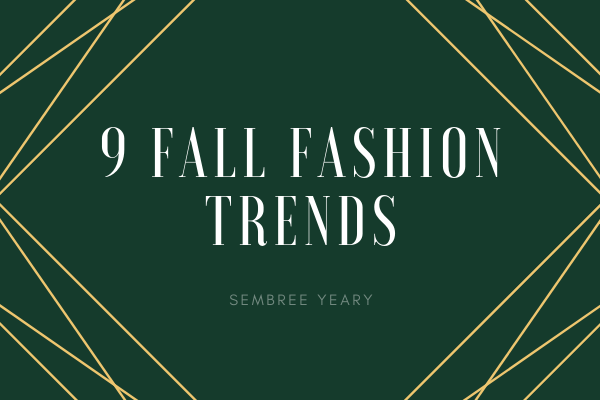 As fall approaches, stores add new clothes, and people wait for the cooler weather. This year we can look forward to the new trends and wardrobes to assemble. After fashion week, these trends will be the focus of the season:
Animal Prints
Animal prints on accessories grow more popular year after year, but this year we will experience it at new levels. Prior to fall, we have seen animal prints on shoes, accessories and even some clothing pieces; the amount of animal print we have seen so far is unprecedented. New prints, such as giraffe, and classics like snake and leopard print will become bigger than ever this year. 
Florals
Along with the pattern trend, florals of many variations will come into season. Dainty florals have come into full play on bags, shoes and clothing. For someone who enjoys a little more of a prominent approach to patterns, bold florals are showcased on many fall pieces. Floral patterns produced in "moody" or "victorian" styles keep with the traditional fall color tones.
Bold Colors
Bold color pallets have taken over the runways at New York Fashion Week. Jewel tones, neons and bright colors are the go-to color choices of designers for a more pronounced collection. Aside from the bolder pieces, trendier pieces come in rust orange and every shade of green. The fresh, new colors will transform the way we see fall fashion and colors. 
Small Bags
Mini backpacks have appeared as a streetwear trend for a while now. Micro bags have flooded the runways, and while impractical for the average person, they have become a hot fashion item. For more practical purposes, an alternate accessory of smaller, crossbody bags to add to any outfit. 
Ankle Boots
In 2018, tall boots made their graceful exit from the fashion scene. However, in the past couple of years, ankle boots, in every material, pattern and color available, were the most popular shoe trend. Regardless of the trendier style of ankle boots, tall boots are seen again in stores in the version of classic riding boots or over the knee boots.
Oversized Anything 
A popular pick for everyone is any oversized piece of clothing. These pieces began as a comfort piece and have since become a trend big enough to transform the way people size their clothing. Top designers sent models down the runway in oversized ensembles and celebrities have favored oversized t-shirts as fast-fashion streetwear. This fall, students can take the oversized trend to sweatshirts, t-shirts (specifically collegiate shirts) and sweaters. 
Hair Accessories
This past summer, hair scarves have become a favorite way to dress up a simple ponytail or half-up hairstyle. A way to add something extra to a hairstyle is hair clips and barrettes; popular ones include pearls, rhinestones or tortoiseshell clips. In other, exciting news for Gossip Girl fans, a huge trend for fall is Blair Waldorf's signature style of headbands. 
Chunky Jewelry
Fall fashion week shows accessorizing as one of the biggest trends this year. Big jewelry is presented as an accessory on many runway outfits and adds an extra element. The most common piece seen is chunky, chain-like necklaces but as the trend continues we will see chunky bracelets and big earrings.
Flare Jeans
The old saying of "fashions will always come back around" is proven true by the trend of flare jeans. Even though the full-fledged, bell-bottom jeans have not made a comeback, we do see a modification of the style with flared jeans. This is the equivalent of a white pair of jeans – even though they may not be worn all the time, they are a staple item to help stay on-trend.
View Comments (1)
Donate to The Rider Online | Legacy HS Student Media
Your donation will support the student journalists of Mansfield Legacy High School. Your contribution will allow us to purchase equipment and cover our annual website hosting costs and travel to media workshops.