Coach Jeffrey Lindsey: Standing In The Hall Of Fame
Coach Jeffrey Lindsey teaches government and serves as the Head Girl's Track coach and Cross Country coach. He is also an old face to Mansfield ISD but a new face to Legacy. Lindsey played basketball at Mansfield High School. Basketball was the highlight of every school day until his coaches insisted he stretch his athletic ability further. He eventually joined the track team where he set many school and district records including the high jump. 
"I'd always wanted to play basketball, but track chose me," Lindsey said. "Track changed my life."
Not only did making the switch change his life, but it got him inducted into the Mansfield ISD Hall of Fame in 2014. Lindsey felt honored to receive this award and cherish's the night of the ceremony dearly. The Mansfield Athletic Department called him which came as a surprise to Lindsey because he never knew the MISD Hall of Fame existed.
"
You never know what's in store for you if you stumble upon the right things,"
— Coach Lindsey
"They told me what it was about and asked me for all the things I'd accomplished in high school and college," Lindsey said. "I was in the second class ever to be inducted- of all people, I was one of the first to be selected."
In preparation for the ceremony, the athletic department tasked Lindsey with choosing someone close to him to introduce him on his big night as well as writing a speech.
"It was an honor. Honestly, the first thing that came to my mind was 'dang, I gotta give a speech,' you know? I don't like being the center of attention. I never have, but it was really cool to be recognized," Lindsey said.
Coach Jason Mutterer came to mind first when it came to picking a close friend. 
"They have somebody introduce you, somebody on a first-hand account that means a lot to you. I chose my high jump coach from Summit, Coach Mutterer. Coach Mutterer is the biggest mentor in my life. He was just amazing for me back when there was no Summit, just Mansfield."
Lindsey felt honored to be a part of the ceremony and suggests that it was a night he'll never forget. Being inducted meant a lot to him for many reasons.  
"You can't just be athletic. They consider all kinds of things, like what did you do after high school, too. There's just a large body of work saying, 'hey, you did good,' you know? You're a respectable person–more than anything, it's good to be respected in the community as this guy whose great athletically but is also a good person. It's nice to know that people think highly of you."
Above all, Lindsey says the best part about the ceremony to him had to be when he reunited with Coach Mutterer because they hadn't seen each other since Lindsey's graduation.
"It was good to be on stage hearing good things he said about me. My whole speech was about how he influenced me and how I wanna do the same for high schoolers. The induction was awesome mainly to be up there with Coach Mutterer again," Lindsey said.
Lindsey hopes to influence the lives of his athletes as well as his students.
"When I try to recruit kids to come to track, or maybe football or basketball, I always tell them to keep their portfolio's big. If I had kept doing basketball and not cared about the high jump then I would have never discovered these awesome things that led to a whole new path in my life," Lindsey said. 
He encourages students to try new sports and extracurricular activities because he believes they're all worth it in the end.
About the Photographer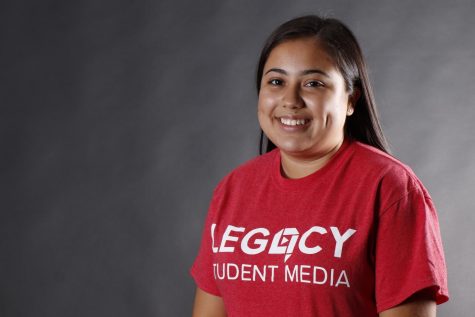 Delayne Fierro, Photo Editor
Hey I'm Delayne, I am The Rider Photo Editor. I like to take pictures, eat donuts, and Sonic. I enjoy sleep on my free time. I'm also an athletic trainer...