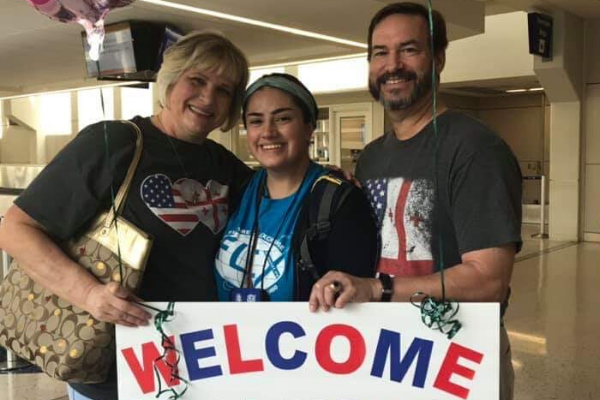 Miles away from home, senior Nanuka Dudashvili notices the heat of the Texas climate as she waits for her host family. Dudashvili thinks about what they will be like and acknowledges the opportunities that being an exchange student will bring her later in life.
On Sept. 11, Dudashvili arrived in the U.S as a foreign exchange student from the Republic of Georgia. She wanted to participate in the foreign exchange program because it's her last chance to get involved this year.
"I think everybody's exchange family is different it depends on what kind of school, what state, and what kind of host family you have," Dudashvili said.
Dudashvili is used to how close everything is in her hometown but coming to the U.S, she realized the distance of everything around her. She came from a small country between Asia and Europe, where the schools are smaller and the classes they teach are different.  When she first started school in the U.S. she noticed the size and friendly environment of the building.  
"I was amazed by the school. It's huge I was walking with a map all week," Dudahuili said.
It wasn't hard for her to get comfortable in a new country, her classmates made her experience in the U.S more enjoyable. Dudashvili believed her positive personality helped her make new friends.
"Students, lots of them are really nice and they help me a lot, I think it's easy for me to find something in common," Dudashvili said.
Dudashvili also gets support from another foreign exchange student from Spain, senior Diana Mitrea, since living together Dudashvili considers her a sister. Mitrea feels that having another exchange student living with her has made the experience easier. 
"We understand each other better because we are living a lot of the same experiences so if one of us has a problem we can rely on each other so ya it helps a lot," Mitrea said. 
A challenge Dudashvili faced as an exchange student was the use of technology in classrooms. Sometimes she would take twice the amount of time submitting assignments through an electronic device then she did actually writing them by hand. 
"
I always wanted to change something in my life and I felt like this was the best thing to do,
— Dudashvili
"I was really ready because we had some departure orientations and I didn't really have any cultural shock or homesickness," Dudashvili said.
Dudashvili's host parents helped her develop some of her favorite experiences. One of them being New Year's since in the Republic of Georgia they don't celebrate Christmas, her host parents celebrated all of the traditions for the holidays.
"I think everybody's exchange family is different it depends on what kind of school, what state, and what kind of host family you have," Dudashvili said, "My host parents hosted a lot of exchange students so one came, visited us for new years so we did all of the traditions" 
Dudashvili believes being a foreign exchange student has completely changed her life because it has helped her grow as a person. She thinks that being a foreign exchange student is an interesting experience and is grateful that she has acquired new friends and family that are always there for her.
"I always wanted to change something in my life and I felt like this was the best thing to do," Dudashvili said, "It gave me everything, it means a lot to me."