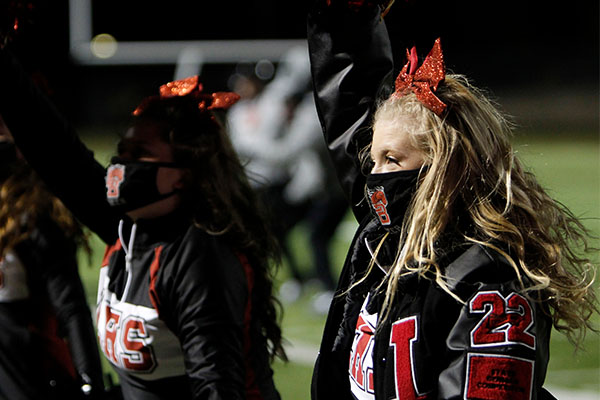 After a few weeks at school, junior Ashlyn Liukonen stayed home for remote learning after Mansfield ISD reported a COVID-19 case. As she sat in her bedroom, she contemplated school and the parties she would miss out on with friends.
The new school year led to a couple of changes for both students and teachers, such as limited contact and regulations at athletic events. Precautions, which include masks and social distancing, became expected to keep students and teachers safe. However, on Sept. 11, Liukoken, along with 25 other varsity cheerleaders, self-quarantined because a cheerleader tested positive for COVID-19.
"I think MISD handled it well, as soon as they found out that one girl had [COVID-19] they immediately quarantined the whole team," Liukonen said, "[My parents] knew MISD was just being cautious."
Liukonen believes Mansfield ISD handled the situation well because they took action toward the positive case as soon as they found out about it. Her parents acted more cautiously and kept her at home for the two weeks that she stayed quarantined. Liukonen felt her quarantine lacked enjoyment since it prevented her from hangouts with friends, she made the best of it. She stayed in contact with friends through FaceTime and text until her quarantine ended.
"I was more concerned about the person that got corona and hoping they were okay," Liukonen said.
Although Liukonen did not worry much about her quarantine, since she did not come in close contact with the infected person, she did have concerns about the change from in-person classes to remote classes since she preferred the support from in-person instruction.
"I had to figure everything out on my own and teach myself," Liukonen said, "I prefer in-person learning much more."
In quarantine, Liukonen adjusted to online classes without much help from teachers. While online classes allowed her to self-pace and submit work later, she believes remote classes increased the difficulty of learning since she taught herself. Nonetheless, she made the best of her situation and stayed on schedule so she did not fall behind.a beneficial workout. Every Friday "Team Time" to maintain a healthy team relationship and increase motivation in the team.
"
I sure miss some things we do, but the coaches are trying to make the best of the situation,
— Ashlyn Liukonen
"We work very hard," Liukonen said, "I love cheer, so I missed it a lot."
On Sept. 25, Luikonen's quarantine ended, but she remembers how upset she felt when she could no longer practice. She knew her teammates work hard and missed working out with them during the quarantine.
"Our [cheer] program is taking precautions to prevent COVID-19 cases through wearing masks at practice and all events," Coach Doyle said.
Because of COVID-19, the cheer coaches and Mansfield ISD have set precautions to ensure the safety of students. These precautions have also impacted cheerleaders since they must wear masks at practice and events, and could not attend the annual summer cheer camp or any competitions this season. Varsity Cheer Coach Doyle and the other coaches developed a plan for the cheerleaders forced to quarantine. These students will receive an alternate practice and material videos sent to them through Canvas so they would not fall behind.
"Our cheerleaders are learning some very valuable life lessons this season. They are learning how to adapt to change, overcome any obstacles set in front of them, as well as the importance of true teamwork," Coach Doyle said. "This will be a season they will never forget, and I'm excited to see what's in store for the remainder of this year."
Doyle recognizes the challenges this year brought to the team. The cancelation of summer camp and changes in practices became an obstacle for the cheerleaders to overcome.  However, she believes they will preserve and work hard. In order to maintain a strong work ethic on the cheer team, Doyle ensured that the cheerleaders can take part in 
"I sure miss some things we do, but the coaches are trying to make the best of the situation," Liukonen said.
Although COVID-19 changed the way Luiokonen practices in cheer and how much she can spend time with friends, she understands the effort of her coaches to improve their situation.
"There are some new rules we have to follow because of COVID," Liukonen said, "It is very different this year as I'm sure most things are."