Claire Carney: Leadership In A New Setting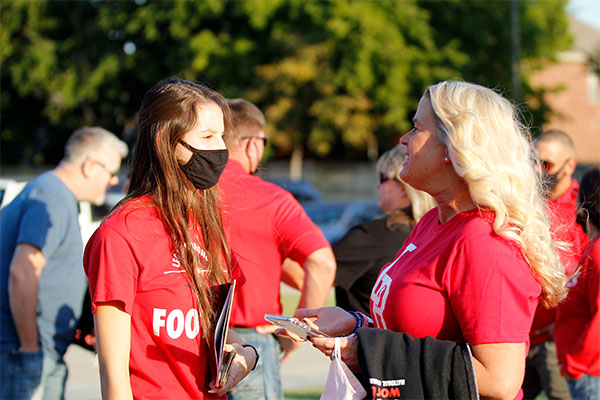 It's not every day you wake up with a global pandemic closing schools, stores, sports and everything in between; despite these unforeseen circumstances, freshman class representative Claire Carney believes going back to school and navigating this uncharted territory will in turn bring us back to where everyone wants to be: normal. 
Q: Is this the first time you've been involved with student government? If not, how long have you been a member?
A: I was a member my 7th-grade year and held a position in office, historian, my eighth-grade year. This year, I am a freshman class representative.
Q: How is student council different in high school than middle school? What made you get involved in student government?
A: In my opinion, we almost have more 'freedom' to do things in high school and I feel we are able to make a bigger impact on students and faculty at Legacy, as well as members of our surrounding community. In all honesty, I love helping people. Getting to be involved and lead various school activities is by far my favorite part. Just knowing that I made an impact on someone's minute, hour, or day is the motivation that keeps me going. 
Q: What do you do in the student council as a class officer?
A: Our tasks vary on a regular basis, but normally we complete various projects as well as represent our class in meetings and organize and work student council sponsored events.
Q: How is Student Council functioning differently due to the coronavirus?
A: Just like anyone else, this season is something we've never faced before. It's different, but we are making every attempt to maintain normalcy in our events. We are coming up with several projects that can be executed safely while maintaining the 'fun' student council is known to bring. Students and teachers alike are ready to return to the hallways we took for granted. Whatever it takes, I know we are all excited to be back.
Q: Is Student Council prepared to welcome students back to school? What can students expect on the first day back?
A: Yes! We've been working the past few days to decorate the main areas of our school to welcome students back. On the first day, student council members will be directing underclassmen to their classes as needed.
Q: How do you feel the transition back to in-person school and extracurricular activities will be? 
A: I think I speak for a vast majority of the LHS population in saying that we are so excited to see everyone again. This mindset will help us all in this transition back to normal, but it will have its challenges. Overall, I assume it will be easy. 
Q: How is Student Council responding to the state and local government's health requirements in regard to sponsored events?
A: We are ensuring all of our events will incorporate social distance, as well as requiring face coverings for as long as the state and local governments require it. 
Q: Do you feel Legacy students and staff are ready and excited to return back to school?
A: Honestly, I think teachers are just done with teaching virtually. I think teachers will be excited to teach and students, although most probably never thought this, will be ready to learn, see their friends on a daily basis and ready to find our way back to normal. 
Q: What is one thing you would like to see in school this year?
A: Although this year has brought its challenges before it has necessarily 'started' my hope is the student council is able to impact every student's life in a positive way and make this year the best, despite these unique sets of challenges.