Elizabeth Barta: Race to The Poles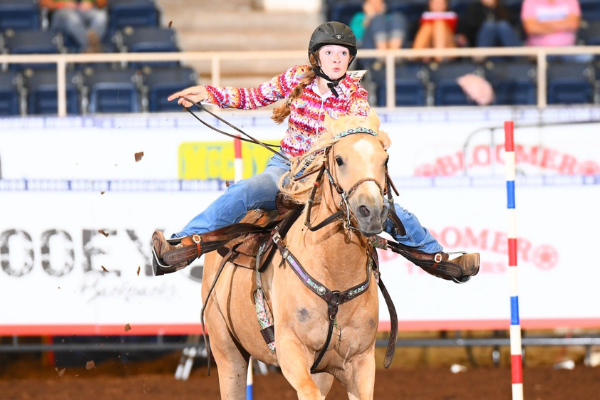 As the numbers on the timer go up by the second, the adrenaline pumps through senior Elizabeth Barta's body and she tightens her grip on the reins. The shrill yells from the audience motivate Barta as her horse gallops faster. With the wind in her hair, she focuses her mind on one thing: the finish line. 
Barta has ridden horses since 2010 and has turned her passion into races since 2014. She has earned many awards but also has learned a lot about herself and her horses. 
"A lot of the time I blackout from the adrenaline," Barta said. "Most times I don't remember the run."
Barta has won a jackpot, placed second at a high school rodeo, qualified for state three times in pole bending and ranked top 20 in the state in 2018 and top 18 in 2019. She also placed fifth at The Martha Josey Spring Two Clinic in 2018.
"I'd say I deserve a lot of what I earn," Barta said. "I work a lot on my horses."
With the practices and long days of hard work, Barta earned a few bumps and bruises here and there. At the end of it all, she always gets back up and continues to work towards her goal. 
"I don't even think I can tell you how many times I've been injured riding horses. I've bashed my shins and cut up my knees," Barta said. "I have had multiple concussions and a bunch of other crazy stuff you would never think of. I've even competed with a broken ankle."
"
I have had multiple concussions and a bunch of other crazy stuff you would never think of. I've even competed with a broken ankle."
— Barta
It took years to get the sport perfected. With lots of sweat, tears and even some blood, Barta enjoys her time on her horses to make sure they're prepared for the race to come. Although they may have their struggles, they come out strong in the end.
"Some days are better than others, but I just try and keep a positive attitude and just do what I can," Barta said. "There are times where I'll beat myself up mentally over a bad run. It's hard to get out of that dark place."
The moments prior to the race overwhelm Barta, but sometimes it's those moments that she needs to pump herself up for a job well done.  
"I'd have to say my most rewarding experience would be winning the average in Glen Rose in 2018," Barta said. "My current pole bending horse had just recovered from a back injury and was finally running like her old self again. She was clicking better than she was before the injury. I cried tears of joy when I heard I won that weekend for 2 years or so and still cherish it."
Junior Brooke Miller has watched Barta ride and is always impressed with her runs. 
"She stays in her own zone," Miller said. "She tries not to listen to anyone so she doesn't mess up."
Horses are Barta's passion and she doesn't see herself changing that for anything. She plans to continue the sport into her near future. 
"The most thrilling thing about barrel racing is the moment your name gets called by the announcer," Barta said. "Your heart starts racing and your adrenaline is pumping. Then when you're finishing up your run heading home just watching the timer is just so exhilarating."
About the Contributor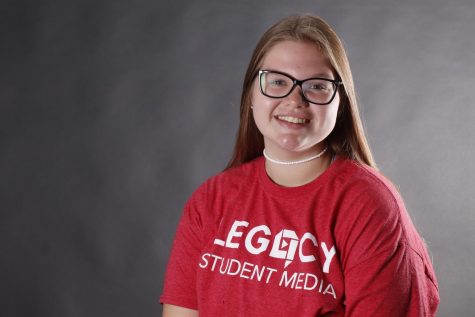 Madison Palmer, Staff Writer
Hey I'm Madison, you can call me Madi. I'm very welcoming so feel free to talk to me when you see me! Have a great year! :)