Ava Crisafulli Qualifies for State Meet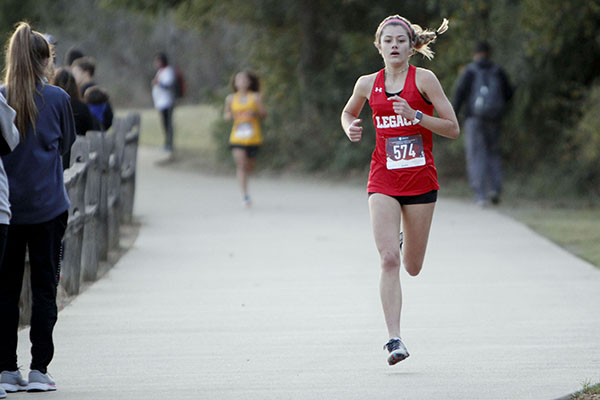 The sun rises and wind blows in Lubbock, TX as cross country teams from all over the state begin to run their regional meet. Sophomore Ava Crisafulli ran the 3 mile course in twenty-one minutes and qualified for the state meet for the second year in a row.
"It feels so good to be a state qualifier for the second year, especially under this year's hardships and circumstances," Crisafulli said. "Now the goal is to make it to state all 4 years."
Hardships have been felt throughout all sports and lives. Despite this, Crisafulli has found ways to prosper and achieve this feat yet again.
"Because of COVID things have obviously been a little different this year but training has been nonstop  since the beginning of March," Crisafulli said. "I have been adapting to whatever I need to while staying focused on my goals."
Though making the state meet, there were shortcomings in last year's meet that Crisafulli plans on improving this time around.
"Last year I struggled with pacing myself correctly, so this whole season I've been working on knowing what my race pace feels like without looking at my watch every 30 seconds," Crisafulli said. "This year at state I would love to run in the 18's and place at least top 50."
Since last year, Coach Jana Jones has noticed improvement in Crisafulli and is fully confident in her abilities for the upcoming race.
"Ava has definitely improved her mental game as a runner," Jones said. "She uses strategy to know how fast to come out, when to push, and when to kick it in and finish; [she] has the drive and determination to be as good as she wants to be."
The state meet is on Monday, Nov. 23 during Thanksgiving break in Round Rock, TX. As the race grows closer, Crisafulli focuses on what she can control.
"This week before the race is all about staying focused and thinking about my race strategy and goals," Crisafulli said. "I just have to trust that my training and hard work is enough."