Cody Weiss: Creating A Safe Place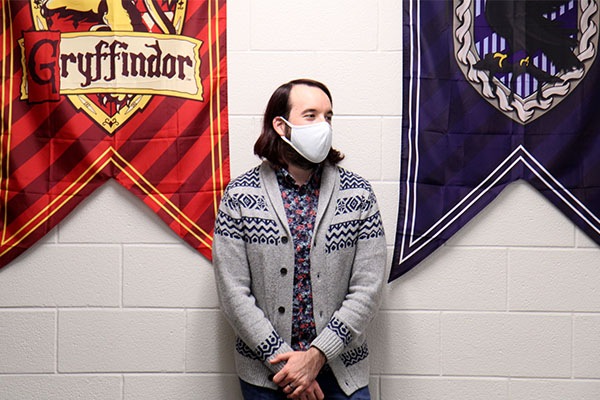 Harry Potter decorations and diverse posters surround the teachers desk and greets students with hufflepuff flags and fall leaves. English II and AP English III teacher Cody Weiss welcomes students with open arms.
Weiss became an English teacher in 2015. He decided to teach after his high school english teacher became his mentor and later influenced his career.
"Her teaching methodology was to love the kids and treat them well—they'll move mountains for you, and I decided that I wanted to follow after her legacy. Which got me here," Weiss said. 
This year Weiss came to Legacy after teaching at Lake Ridge High School. After his transition to Legacy, Weiss made the choice to decorate his room with giant banners to add color to an otherwise bare room.
"I thought about what would be a unique idea I could base my classroom around that would also be English-y and not boring," Weiss said. "I settled on my favorite book series that I grew up reading that actually made me enjoy reading."
Weiss hears comments about his acceptance posters, like his Black Lives Matter poster and LGBTQ+ posters.
"I get comments about how my room feels "homey" or "cozy" from my kids," Weiss said.
Most students enjoy the decorations that surround the space they learn in. Last year junior Samantha Opaiach was welcomed in Weiss's English II class.
"Having posters creates a safe place for a lot of people who might not have a place like that anywhere else in school or even at home," Opaiach said "it sets a tone of acceptance —and even common ground for some people—right away, which is especially important in an English class where you're often discussing personal and controversial topics."
Despite this year's differences with COVID-19, the theme of the room helped the students feel more accepted with the Harry Potter theme being a common ground. Helping them feel more accepted, Weiss's decorated classroom brought some normalcy to the school year.
"Seeing the students participate and seeing them understand the text despite the circumstances, definitely makes the discussions my favorite part still."