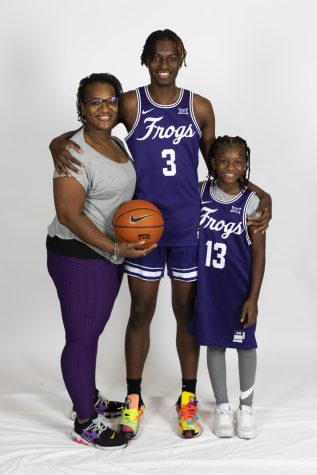 On June 27, 2021, I was sitting on the outdoor patio of 54th Street on 287 when my phone rang with an unknown call from Fort Worth.
Eating what must have been the best plate of nachos I've ever had, I took a pause to answer the phone, curious to find out who was calling. Surprisingly, this nacho-munching interruption couldn't have been any more of a blessing.
Coming off of one of my best performances, I was hoping the call was from a college coach. My wish became a reality when TCU's head coach, Jamie Dixon, introduced himself to me. 
"After a great conversation with Coach Dixon and Broussard, I am blessed to say I have received a scholarship offer to play basketball from Texas Christian University," I announced on Twitter a few minutes later. This was my third D1 offer of what turned out to be nineteen schools that I would later have to choose from. 
On Sep. 11, 2021, 76 days later, I made a trip to TCU for an unofficial visit. The day started at 8 a.m. to watch a morning workout the team had. The players looked more locked in and motivated than anyone I had ever seen. It felt like I was feeding off of their energy and I wasn't even on the court. About an hour later, I went to the media room with my mom and little sister to take some pictures with the team jerseys on. When viewing the photos, pure excitement of all our smiles gleamed back at me.
As fun as taking pictures was, it wasn't even the best part of the day. At 2:30, the football team tipped off against UC Berkeley in what was supposed to be an easy blowout win. This turned out not to be the case as they went down 19-14 at halftime, but the Horned Frogs fought back in the second half and won a tough one, 34-32.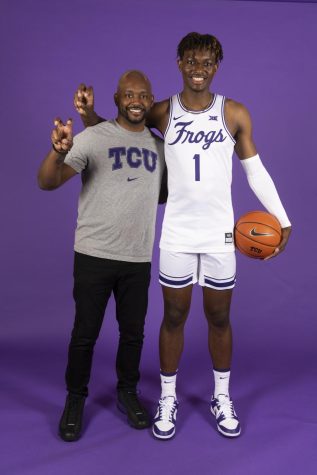 With such a great first visit, I was sure the school couldn't be matched.  A year later during my second visit to TCU, I experienced the best weekend of my life. I was able to take a tour of the campus, specifically the Schieffer College of Communication, which helped me confirm that I want to pursue the Journalism field beyond high school. We went to eat the best steaks at Del Frisco's and later went to Topgolf with some of the players. Just like the rest of the visit, the pictures and photographer made me feel like I was at home. I got to take pictures with my Dad this time, and as a TCU professor, he was dressed and prepared for the occasion.
Eleven days later, I narrowed down the list of schools I was considering to six. Kansas State, Oklahoma State, Columbia, Harvard, Xavier and TCU. Even with the talks of school visits increasing, something just felt off. After visiting Columbia, I knew what I decided. As much as these options were intriguing to me, nothing felt like home the way that TCU did.
On July 7, 2022, one of the most important days of my life, I decided that I was going to be a Horned Frog for the next four years. The excitement radiating from my family and friends was amazing to feel, as this part of my life was one that I've worked so hard.
Now, it's time to build on this accomplishment. I'm proud that I have solved a small piece of the puzzle that life is, and now there are hundreds of pieces left to be filled in.