Physician
Physicians are Doctors of Medicine (granted the title M.D.) or Doctors of Osteopathy (granted the title D.O.) that provide medical guidance through diagnosis, prognosis, and treatment of a patient's health. Some physicians focus on treating the body as a whole while others focus on specializing in a specific part of the body. As an umbrella term for most medical professionals, physicians include Family Doctors, Pediatricians, Dermatologists, and even Surgeons. Physicians make a median salary of $208,000 (2021) and usually undergo anywhere from ten to fourteen years of schooling. 
Registered Nurses
Registered nurses (RN) are licensed nurses who have graduated from an accredited nursing program. RNs have many responsibilities within healthcare such as hands-on/bedside patient care, administering medicine, and collaborating with Physicians. To become a Registered Nurse, one must earn an Associate of Science in Nursing (ASN) or Bachelor of Science in Nursing (BSN) and pass the NCLEX-RN exam. After one becomes an RN, they can pursue specialized positions such as Emergency, Critical Care, or Surgical Nursing. RNs typically make a median salary of $77,600 (2021). 
Veterinarians
Doctors of Veterinary Medicine (DVM) are licensed medical professionals who assess and treat sick/injured animals. Veterinarians have significant roles in public health such as preventing the spread of zoonotic diseases, protecting varieties of species, and performing surgeries on animals. These physicians work alongside pet owners to ensure the patients are properly cared for, minimizing the risk of transmission to human populations. Veterinarians make a median salary of $100,370 (2021) and usually complete anywhere from seven to nine years of schooling.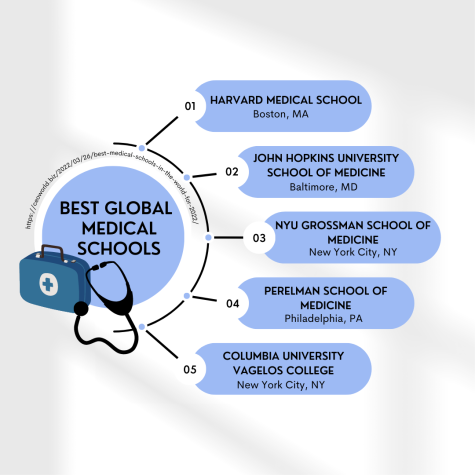 Medical Assistant
Medical Assistants (MA) are healthcare professionals who assist the work of physicians or other medical professionals, usually in a clinical setting. Medical assistants work closely with patients, however, they are not allowed to give medical advice. Their responsibilities are limited to preparing both the patient and physician for medical visits through administrative or clinical work. Medical Assistants usually perform tasks such as sterilizing medical instruments, collecting patient information, and completing basic laboratory tests. Education for becoming a Medical Assistant can range from nine months to two years. The prerequisite for a MA program is a high school diploma. Medical Assistants make a median salary of $37,190 (2021).
Anesthesiologist
Anesthesiologists are physicians who specialize in anesthesiology. Anesthesia is the branch of medicine that controls a patient's insensitivity to pain during surgery. Known as one of the hardest roles in health care, Anesthesiologists are in charge of a patient's vital life functions and level of consciousness to ensure a safe and successful surgery. These physicians must also be prepared to administer life-saving treatment if there is error within the surgery. Anesthesiologists make a median salary of $208,000 (2021) and must complete anywhere from twelve to fifteen years of schooling.