CONTEST: Writing Words for Legacy's Fight Song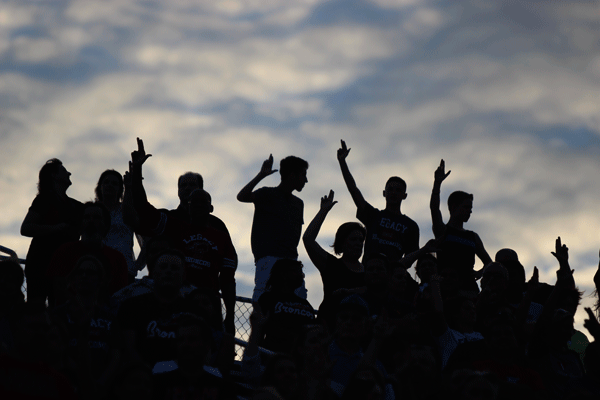 The Rider Online has teamed up with band, Silver Spurs, Stuco, choir, cheerleaders and other organizations to find the right words for our school fight song. As of now, we awkwardly dance along until we get the B-R-O-N-C-O-S, BRONCOS, BRONCOS, GO BRONCOS portion of the song. Many other schools have words to cheer on the team during the fight song. We think eight years has been too long to go without lyrics to our own fight song.
How to Submit Your Lyrics.
Enter your words in the comment portion here. Sponsors from various clubs will select a winner.
What Does the Winner Win?
The Rider Online will purchase a banner for the varsity gym with the lyrics. The winner's name and graduation year will be listed below the lyrics. And a sweet gift card comes with the deal.
How Will The Student Body Learn the New Lyrics?
Sponsors and teachers will work to teach the new lyrics to everyone.
What Do Lyrics Sound Like? 
We've listed other school's fight songs below as samples.
How Do You Fit the Song and Words? 
Here's a recording and the trumpet music to help.
When does the contest end? 
October 23.
Sample Fight Songs from Other Schools
We are the Vikings of VCHS
On the field or on the court
We are the best
Cheer for the brown and orange
Victory is on the way
Win this game the Viking way!
_____________________
We will fight, fight, fight
For the red, black and white,
And we'll ever be true to you,
We will help you win,
Through the thick and the thin,
EAGLES! We're rooting for you.
____________
Onward Bulldogs into the fight,
We will back you with all our might,
Fearless, peerless – hear us yell loud!
You're the kind of team that sets off the crowd.
B-U-L-L-D-O-G-S, Artesia High School, A-H-S
Onward Bulldogs into the game,
You will win it, you'll bring us fame,
Fame and honor in every way,
You'll be the heroes of the GAME!''
_____________
Here's to Garland High School
She's tried and true
Ever we'll back her
In what she may do.
Rah! Rah! Rah!
See the foe is trembling,
Trembling with fear,
So come and push, pull
For Garland with cheer on cheer.
Enter the contest by submitting your lyrics in the comment section below.
Hang on for a minute...we're trying to find some more stories you might like.