Girls' Basketball Advances to Regional Tournament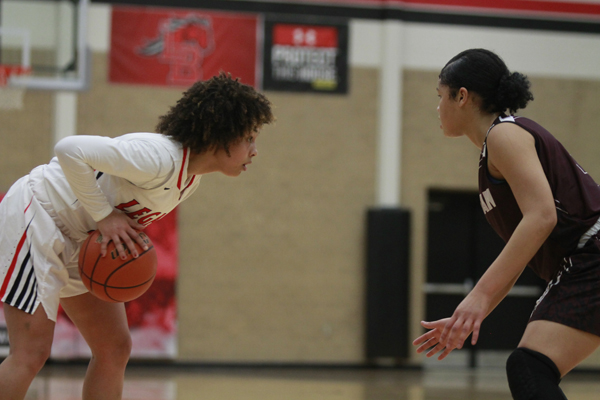 [UPDATE]
As the buzzer sounded at the Wilkerson Greines Athletic Center, freshman Harmoni Turner looked up at the scoreboard after the fourth quarter to see Legacy ahead by eight points. Not an ordinary eight points, but the eight points that advanced the lady broncos to their first regional tournament appearance in school history.
The Legacy girls' basketball team defeated Burleson Centennial 53-45 and advanced to round 5, the furthest any Legacy team has reached in the playoffs. Their next game will be against Frisco Liberty on Feb. 24 at 6 pm at the Curtis Culwell Center in Garland, TX.
"My team and I will just stay focused, continue to grind and stay humbled," Harmoni said.
(Legacy's fan bus will be available for students who want to travel with the lady Broncos as they make their playoff run.)
[Feb. 17]
Head Girls' Basketball Coach Michelle Morris clapped and cheered with her bench as the Broncos continuously ran up the score against Bryan Adams. As the game came to the closing seconds, they immediately switched their focus toward the next playoff game against Burleson Centennial.
The Legacy girls' basketball team beat the Cleburne yellowjackets 65-60 at Alvarado Junior High and advanced to the bi-district round where they faced Bryan Adams High School at Cedar Hill High School. The Broncos blew out Bryan Adams' Cougars 67-26 and returned to the regional quarter-finals to play Burleson Centennial on Feb. 20 at the Wilkerson Greines Athletic Center at 8 pm. Despite their round three elimination against Timberview in 2016, the Broncos look forward to reaching further into the playoffs than ever before.
"Our first two playoff games went well. We're just trying to tweak the little things, get better and fix the small fundamentals as we move through the season," Morris said. "We made it to this round, the regional quarterfinals and got beat by Timberview, so this round is the furthest Legacy girls' basketball has ever gotten."
After making the playoffs twice in her first two seasons at Legacy, Coach Morris believes the Broncos' expectations have raised to a higher level.
"Last year we laid the foundation of what is expected this year, one thing we have this year is at any given night, anyone could score, Morris said.
With every player posing a threat to opponents every night, freshman Harmoni and senior Lyric Turner have similar goals which will help get the Broncos through round three.
"My mindset is to play my game, work as a team and to get everyone involved on the court," Harmoni said. "My mindset is just to stay focused and continue to play our game," Lyric said.
They also share expectations between them and their teammates.
"We all expect hustle, execution of plays, and hard work from everyone," Harmoni said. "When I or my teammates take the court, we expect each other to play with energy, heart, and determination," Lyric said.
The Broncos' recent playoff successes gained them local publicity where Joe Trahan interviewed the girls' basketball program on WFAA in a feature called "Sister Hoops".
"It's a blessing. My teammates and I are very fortunate to get to do that. It challenges me to work harder every day," Harmoni said. "It was weird but at the same time it was very cool, seeing yourself on local television," Lyric said.
Going into the regional quarterfinals, the Broncos will continue what they have been doing all season.
"The foundation has been laid and built upon, there's no more hoping to go to playoffs. The legacy that's been left here from past players, last year's players, and now this year is that we continue," Morris said. "It is expected to continue the success here."
(Legacy's fan bus will be available for students who want to travel with the lady Broncos as they make their playoff run.)