What Last Friday Showed Us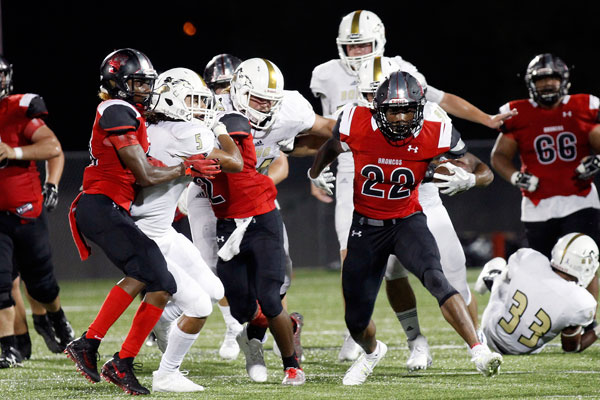 Quarterback, Cameron Clark, 11, takes the snap and drops back in the pocket, he quickly scans the field and finds wide receiver, Nathan Rooney, 11. Clark throws a dart right into the hands of Rooney and once Rooney secured the pass he sprinted for the end zone. Clarks' first touchdown pass as a varsity quarterback.
Clark threw for 145 yards and two touchdowns, on the season opener against Wichita Falls Rider.  And running back, Grant Johnson rushed for 209 yards and three touchdowns. Legacy racked up 447 yards offensively. On The defensive side, free safety, Jalen Catalon, 11, led the defense in tackles this week with 9.5 and one interception. The Broncos only held Rider to 237 total yards. Catalon still feels like a lot of improvement needs to be done in order to be a championship-caliber team.
"As a team we just need to work on keeping our focus because we play in the toughest 5A district in the state and any lack of focus can result in defeat," Catalon said.
This week, Clark practiced with his receivers and worked on throwing their routes and catching the football.
"We have to start catching the ball more consistently but that's gonna happen it was the first game and we have worked on it and we are good to go," Clark said.
For the Broncos offense, there was five first-time varsity starters, including Rooney and Clark. However, despite some inexperienced players, Clark's satisfied with the way his team played on Friday.
"Last week I couldn't have really asked more from the offense. The Offensive-Line did great setting up the run game and giving me time to sit back in the pocket and find open receivers," Clark said.
For the defense, the Broncos had eight first-time varsity starters. Head Coach Chris Melson thinks the defense isn't where it needs to be. Although they played well overall, corrections still need to be made.
"Our defense never gave up a home-run play and made several 4th down stops that were crucial," Melson said. "They need to run harder to football, I don't like when my players loaf. We also need to create more turnovers. Hard pursuit to the football translates to turnovers and turnovers causes wins," Melson said.  
The Broncos lost 37 players last year, meaning the team has many roles to fill. However, according to Catalon, the team will potentially be just as good as last year's.
"Our team is definitely young, but we are also just as talented and capable to do what last year's group did," Catalon said.
The Broncos play the Crowley Eagles at 7:30 p.m. Sept. 8 at Crowley High School.
Clark's first game under the lights undoubtedly caused pressure to perform well as he completed seven of twelve passes last friday. As Clark continued to play on friday he just got more relaxed as the game went on.
"I feel a little bit of pressure being a first year starter. The longer I played, the more relaxed I became," Clark said. "What adds more pressure is knowing I am having to replace last year's QB Kendall Catalon, but I accept that challenge and I'm locked in and am ready for a great season. I am real excited to see where I can take this team this fall."
Hang on for a minute...we're trying to find some more stories you might like.
About the Photographers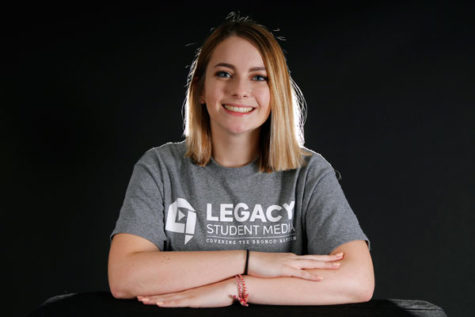 Kassidy Duncan, Photo Editor
Hi! My name is Kassidy Duncan, and I'm the Arena Photo Editor for Legacy Student Media. My website (kassidyduncan23.wordpress.com) says everything else...