Boys' Basketball Starts Again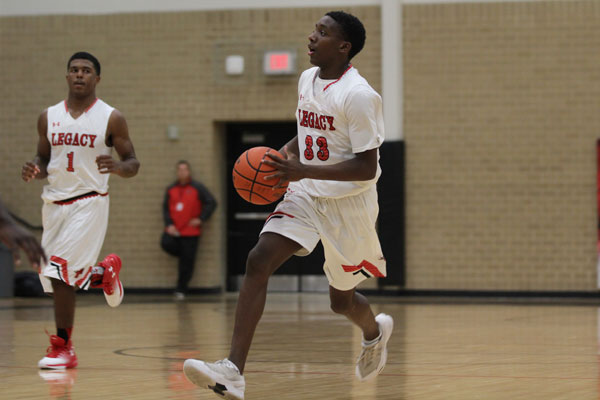 Senior John Rivera and Junior Michael Simmons run toward opposing players and break down with the squeaking sound of their shoes as they hit the court. They huddle around the ball carrier and force him to turn the ball over. Head Coach Cornelius Mitchell blows the whistle and claps his hands, seemingly impressed by what he's seen, and ends the practice.
Basketball season is quickly approaching, with their first game taking place against Weatherford on Nov. 14. The Broncos start with five non-district games, including their game against Weatherford. In District 10-5A, there will always be challenges, but Coach Mitchell still wants to be the best team possible.
"Our district is by far the best district in the state," Mitchell said. "The four teams that went to the playoffs last year are all ranked in the top 20 coming in to this year. It's hard, but we just want to be the absolute best, and we want our opponents to get the best version of us every time we play."
The players believe that if they can keep a fast tempo, they will be able to gas other teams and cause them to make mistakes. Junior Guard Michael Simmons plans for this every time they step on the court.
"I think if we can stay in shape and be in good condition we can make other teams get tired real fast as we stay poised," Simmons said. "We have to make people play uncomfortably, make them play faster than they want to. If we make them play out of their comfort zone, we can really do something for our defense. We don't have the luxury of having big-time athletes, so knocking down our shots is going to be a big part of us winning games"
Coming off a 14-21 season and missing the playoffs, Coach Mitchell believes his team does plenty of work behind the scenes. Because of this, he thinks the team will show improvement from last year.
"Our kids are seeing how much effort they have to put in outside of [practice]," Mitchell said. "We're not one of those teams where we can just show up, our kids are gonna have to put in a lot more work of the normal spectrum. I think that's the biggest thing. And we've got guys coming in the morning and coming in after school, and I just think our fans and followers will see a better team because of all the extra time our guys are putting in."
With a long season ahead, concluding to a total of 28 games. Rivera isn't focused about the win-loss column and more focused on the overall play of the team. He believes that the team just has to give their maximum effort every play.
"We just got to come in focused with a winning attitude," Rivera said. "We got to approach our practices with a lot of effort and hard work, and just focus on our rolls and do them the best we can. We gotta approach this season really hard and make ourselves better as players. A successful season would be us growing as individuals and collectively as a team. Just playing hard every night."