Broncos Make a Run for Playoffs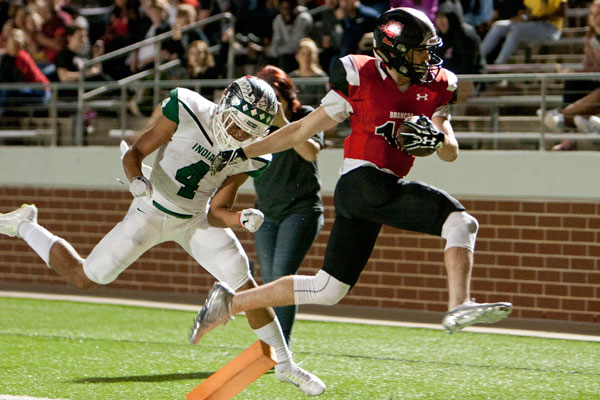 Broncos quarterback, Jalen Catalon drops back and scans the field, rushes to the right, scrambles out of the pocket and heaves it to Wide Receiver Nathan Rooney in the back of the end zone. Rooney jumps up over a Waxahachie Defensive Back and snatches the ball through his hands. Coaches rush the field and players jump up and down, cheer, and celebrate with teammates. Legacy goes up 8-0 and eventually wins the game.
Friday, Oct. 20 varsity football beat Waxahachie in a 39-34 nail-biter. The game came down to the last play, but the Indians still came up short. The Broncos improved to 4-0 in district play and 6-1 overall. The win over Hachie brought the Broncos are one step closer to clinching a playoff spot.
"It sucks knowing we lost the biggest game of the year and potentially lost the chance to be the district champions," Rooney said. "We should've won that game but we didn't play as well as we could've."
Last Friday, Oct. 27, the Broncos fell short 28-17 against Lake Ridge. Varsity football fell to a 6-2 overall record and a 4-1 district record. Despite the tough loss the Broncos fought the entire game.  Rooney scored his fourth touchdown this season. Senior Ralen Troupe caught an interception and recovered a fumble. Defense as a whole put up 35 tackles.
"We could've done way better. We just let it slip in the second half really," Troupe said. "I'm trying to get ready to go into playoffs and better myself so the team can get better."
Legacy takes on Summit next, and statistically, the Broncos are looking at sunnier skies for this next match-up. Summit currently stands with a 5-3 overall record and a 3-2 district record. Earlier this season Summit lost to Lancaster, who the Broncos defeated earlier this season.
"I think we will bounce back against Summit," Rooney said. "Since the loss to lake ridge, everyone has been locked in at practice, and we are all trying to make sure we don't lose another game."
Legacy still has a big window to get in the playoffs. A win against Summit or Red Oak would guarantee the Broncos a spot in the postseason, and winning one of those games also gets Nathan Rooney's one step closer to his goal: winning a state championship.
"Not many people get to say they won a state championship, and [get] to wear that ring around your finger," Rooney said. "I'm sure there's something special about it. It's definitely a goal of mine."  
The Broncos take on Summit  this Friday (home team) at 7:30p.m. at Vernon Newsom Stadium. This game will be Legacy's Red Out and Senior Night.
Hang on for a minute...we're trying to find some more stories you might like.