Sophomore Athlete Receives Newcomer of the Year Bobblehead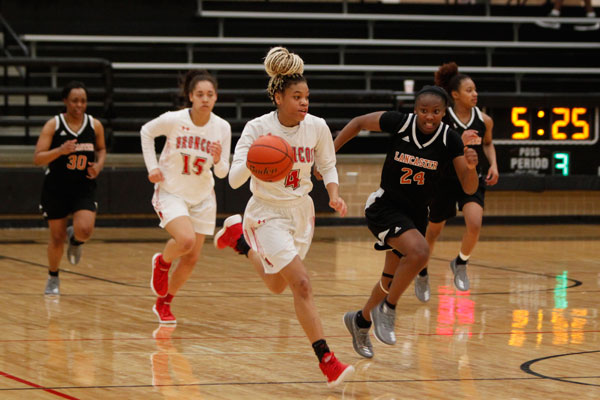 Sophomore Harmoni Turner won the Newcomer of the Year Bobblehead for girls basketball, given out to the best new athlete in the DFW area. Turner averaged 23 points-per-game and led the team in most points scored with 663. She caught the eyes of scouts with her flashy passes and court vision, and she averaged out about five assists per game.
"The most exciting part is her natural talent," Basketball Coach Michelle Morris said. "And with her hard work and dedication just day after day she gets better. At the end of the day all she wants to do is win. She helps everyone on our team get that mindset, and when that does happen, the sky's the limit for us"
Turner still has time to grow and take her game to the next level. She believes she's more than capable of improving and that she's the best player in the state.
"This is only the beginning," Turner said. "I can grow a lot in different aspects of my game, and that's what I have to do, just grow. In the most humbled way, I feel like I'm the best player in the state already. With all the hard work and dedication I've put in, I feel like it has paid off. My success is privileged and it can be taken away from me so with that being said I still have a lot of work to do."
Basketball requires all five players to be on the same page, not just one. Turner could not achieve as much success as she did this season without the help and comfort of her teammates.
"My teammates really supported me in everything I did and they encouraged me to work harder," Turner said. "And from that support, it just made me wanna work harder,"
Turner also recorded 253 rebounds this season, about 8.7 rebounds-per-game.
"As soon as I step on the court I have to switch from 'nice Harmoni' to 'game-time Harmoni,'" Turner said. "My parents told me I have to do that, and it's been working for me."
The best part about Turner besides her abilities is her age. She still has another two years playing basketball at Legacy. Coach Morris in particular is very excited to see what will become of the young athlete.
"As a point guard, I expect her to just continue to recognize what's going on and running the floor, and I look for her to get better and better each year," Morris said.
Hang on for a minute...we're trying to find some more stories you might like.