Baseball Begins Second Half of District Play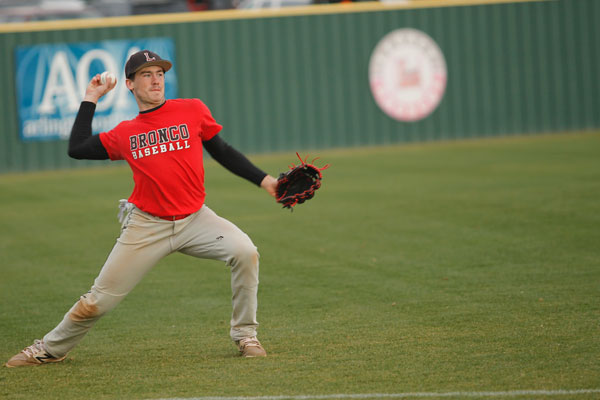 Heading in to the top of the seventh inning, the Broncos have a three-run lead on the Waxahachie Indians. The Indians manage to score late and shrink our lead to two. On the mount of a comeback, adrenaline running high, the Broncos secure the last out and end the game.
With a little over half the season in the books, the Varsity Baseball team maintained a 12-3-1 record, going 7-1 in district play. Throughout the season, the team outscored its opponents 142-41, making at least 13 runs in five of the last six games. And right now, sitting at first place in district, playoffs seem to be in the cards again this season. But Head Coach Chris McMullen wants his team to play to their full potential every game.
"Our goal is that every time we step on the field to win a game. If we get caught up on all that going to state and playoffs and all that long term stuff, we're going to miss out on today. And so if we miss out on where we need to be today, we'll never be able to be where we want to be," Coach McMullen said. "Do we want those things? Absolutely. But is it something we talk about all the time? Not really. We're focused on today and getting better today."
These long-term things have become traditions to the baseball program since the school opened. The baseball program has produced eight playoff-making teams of the 11 years the team played. McMullen does not want his team to direct their attention towards that, but rather towards improving their play and moving forward.
"It's a trap getting caught up in wins and losses, it's just about getting better. That's kinda been our focus the whole year, and just learning how we fix our mistakes and get better," McMullen said. "It's something the players have to deal with and it's something they have to block out. If they don't they'll find themselves not playing for as long as they want to."
After making it to the fifth round of playoffs last year, Coach McMullen added lots of young talent to the varsity roster, but they learned how to deal with all the pressure and attention. Which is why Coach McMullen believes one thing that this team has that a lot of teams don't, experience.
"We're bringing back 6 starters from last year, so with that comes a lot of experience and a lot of confidence. They've been in big ball games, they've been in games that are really tight, and they know how to win," Coach McMullen said. "That's the big thing about winning, you learned multiple ways to win games. You can win games by playing defense really well, or pitching really well, so nothing really phases them. We've been in a lot of situations, and that's probably our main strength which is our experience."
This season, only five games have been won or lost by a margin of three runs or less. Junior Nathan Rooney thinks these high-intensity, close matches are key to helping them in the long run.
"These games help us a lot because it gives us more games to have under our belt going into the games that matter most," Rooney said. "Our goal is to win a state championship and we are working on the problems we need to address so we don't make the same mistakes going forward in games."
Although playoffs are still out of arm's reach, junior pitcher Peyton Cathey has been pleased with the team's performances, but still knows they need to stay mentally on point.
"The season has gone great so far," Cathey said. "But in baseball you never know how it will go so the team has to stay prepared and not take any team lightly."
And after witnessing and being able to coach this team for half a season, McMullen has nothing but good things to say about his team.
"These guys work extremely hard, they take a lot of pride in what they do. And every time we take the field, it's a very, very good group of players," Coach McMullen said. "They're very confident, very focused, and it's a lot of fun to watch them."
The Broncos next game will also be against the Indians at 7:00 p.m. on April 6. The match will take place at Waxahachie.