Catalon Ends Season with Torn ACL, Focuses on Future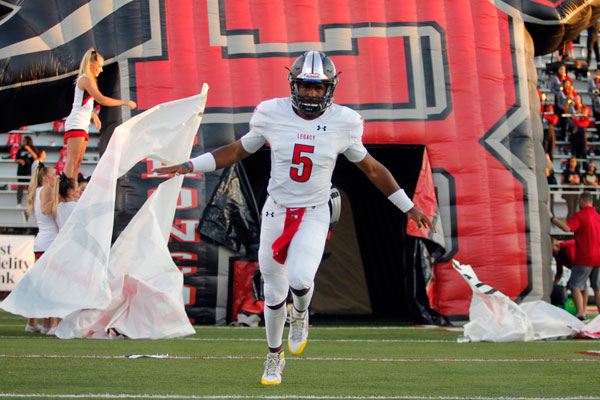 Senior Jalen Catalon takes the snap, waits for a hole to open up then sprints toward it. As he approaches, the hole gets smaller and smaller. He planted his left foot in the ground and took off for another hole. He took two more steps then stumbled before completely collapsing on the turf. Catalon got up slowly, limped across the field, then collapsed once more. Trainers assisted him off the field and the game went on without him.
Catalon did not realize this at the time but that would be his last snap, his last play, his last game in a Bronco uniform.
Catalon underwent an MRI Sept. 4. After the MRI, he hoped for some good news. The good news never came. The MRI revealed he had torn his ACL in his left leg and will be out for the next 10-11 months.
Tears. Tears were running down his face within seconds of hearing the results.
"It's hard. The past three years at Legacy I've been working and grinding for my senior season, and within seconds all of that is taken away from you. I'm devastated," Catalon said. 
As a sophomore, Catalon was named AP Class 5A Defensive Player of the Year. His junior year Catalon was named the MVP of District 10-5A. Catalon received scholarship opportunities to play for Alabama, TCU, Oklahoma, Clemson, and from other Division I teams. He realizes his injury will be less appealing to college trying to recruit him, but he's hoping he will sign with a major college.
"I know this could jeopardize my chances of playing at some amazing colleges, but the man upstairs has got a plan for me and I got to trust that," Catalon said.
[Photo Gallery From the Oklahoma Border Brawl]
Head Football Coach Chris Melson and also Defensive Backs Coach says it's been a pleasure to coach Jalen at safety for the past four years. Coach Melson thinks Catalon will be hard to replace, but, if any team can overcome this, it would be this team.
"Jalen is obviously a remarkable player, and my heart hurts for him," Coach Melson said. "We have to move on and keep getting better. I believe this team can push through this and will still be the ones holding up that trophy in December. We still got talent everywhere."
Senior Cameron Clark will now run the offense with Catalon sidelined for the season. Clark also starts on defense and knows he has big shoes to fill but feels like he can get the team to bounce back.
"
We will play every game like it's our last and show teams that we are capable of doing what we were doing with Jalen."
— Senior Cameron Clark
"I believe, without a doubt, that I can help this team go in the direction we all planned it to at the beginning of the season. Jalen was a big loss, but we have the same goals and that's to win a state championship," Clark said.
The Broncos lost arguably their best player and they lost week one to Jenks. Clark believes this team is full of fighters and that the loss will only make them stronger.
"Our team is something special and this will only bring us closer and stronger as a team I believe we handle adversity well, and we will play every game like it's our last and show teams that we are capable of doing what we were doing with Jalen," Clark said. "The Legacy Broncos are something special."
About the Contributor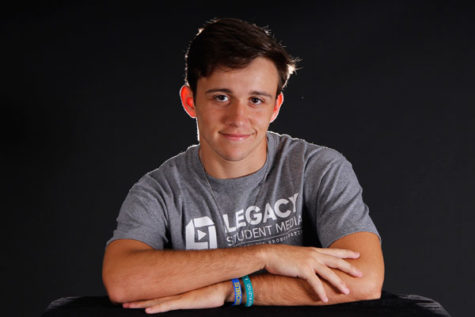 Jorden Melson, Sports Editor