Academic UIL Advances to Region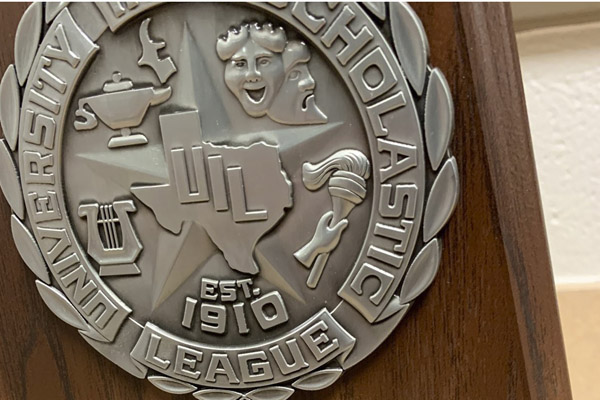 The UIL Academic team competed in the district meet. Overall Legacy earned 322.5 overall points. For team points, the journalism team and One Act won first in their divisions. The three CX debate teams won first, second and third and the speech team won second. Those who advanced to region will compete at Texas Tech in Lubbock the weekend of April 12.
From those who placed at district, only the top three move on to region. From region, those who place in the top three compete at the state meet in Austin.
Of the 322.5 overall team points, journalism had 113, 54 of them coming from senior Kathryn Pedroza. Last school year, Pedroza won third in feature writing at the state meet.
"I wasn't expecting to do so well," Pedroza said. "I just hoped to advance in one event, now my goal is to get to state again."
One Act Play competed at district on March 20, then won first place at bi-district and advanced to region at the area competition on April 5. One Act won 44 points.
"I'm ready to compete in Lubbock," Pedroza said. "I can't wait to see what happens and where we go from there. Plus it's really cool to see how all the other organizations do and how we represent Legacy."
With the realignment this year, only Timberview and Legacy remain in this 5A district from MISD, so they moved to region 1 from region 2. Mansfield High School, Summit High School and Lake Ridge are did not move regions, so they will compete at UTA for their region competition.  
Current Issues:
5- Matthew McCoy
Copy Editing:
2- Kathryn Pedroza*
Editorial Writing:
1- Brinley Koenig*
2- Kathryn Pedroza*
4- Ryland Mallett
Feature Writing:
1- Kathryn Pedroza*
3- Ryland Mallett*
Headline Writing:
4- Ryland Mallett*
5- Jazmine Necessary
Informative Speaking:
3- Michael Grove*
4- Brinley Koenig
Lincoln Douglas Debate:
3- Natalie Ponder*
6- Sembree Yeary
News Writing:
1- Kathryn Pedroza*
2- Ryland Mallett*
Persuasive Speaking:
6- Carson Wells
Poetry Interpretation:
1- Javia Conoway*
Ready Writing:
3- Kassidy Duncan*
4- Sarah Akande
5- Savannah Gery
Biology:
1- Phillip Ipock*
Science:
2- Phillip Ipock*
*- Advances to region at Texas Tech
Hang on for a minute...we're trying to find some more stories you might like.