Boys Track Prepares for Region Competition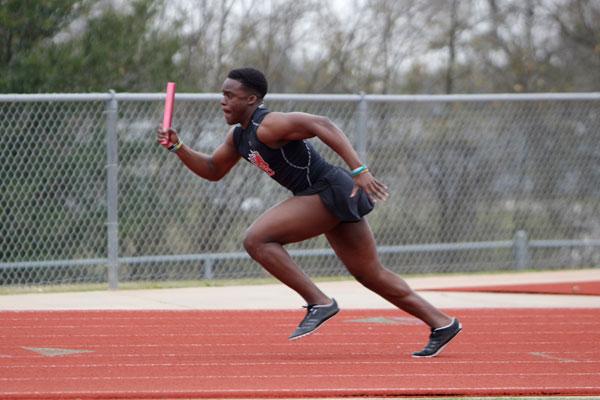 He sets his lips and moves his leg back and forth trying to further its grip on the track. Junior Jordan Watkins takes off from his stance and propels his hand back to receive the baton as he pushes forward. He runs as the second leg of the 4x100m relay at the Area Meet.
The boy's track team ran in the Area meet on April 18 and qualified for the UIL 5A Region 1 Track Meet in several events on and off the track. Watkins enjoys the opportunity to continue to advance.
"It's exciting for me. I've always been on JV in track for the last couple of seasons and it's my first time running past the District meet," Watkins said, "but I hope for us to get first in the 4×100 because we have fluid handoffs and our time continues to drop."
Along with Watkins, there are also Regional qualifiers new to the postseason competition including Garrett Little (Discus), Aiden Getreu (300m Hurdles), Cedric Williams (400m), Tru Edwards (Triple Jump & 110m Hurdles), Kaleb King (Long Jump), and Montae Davis (High Jump). But Watkins knows the diversity of their point spread doesn't hurt as long as they remain as a unit.
"We have throwers and jumpers qualified [for Regionals] along with our runners," Watkins said. "But no one is really selfish and it doesn't really matter who you are on our team because we all do the same workouts and we all have the same goal."
His teammate and senior Cedric Williams notes that new ideas have been beneficial along with being good teammates.
"I know it sounds kinda dumb but we've been drinking gallons of water every day and staying hydrated and that's worked for us," Williams said. "But we've really been believing in our teammates and pushed each other all season."
As the season nears its end, Williams does not want the team to lose focus and wants his teammates to continue to run.
"We can't get complacent. We really have done more with less this season and we hope to continue to get better," Williams said. "This week I hope we win a title but more importantly, for everyone to move on."
But Williams has the end goal in mind and believes this team has the potential to reach their peak.
"In the end, we can win a state title, a state championship, and get that state ring," Williams said.
The Regional Track Meet will take place April 26-27 in Lubbock at PlainsCapital Park-Lowrey Field. Prelims for all events will be on the 26 and Finals for all events will be the 27.