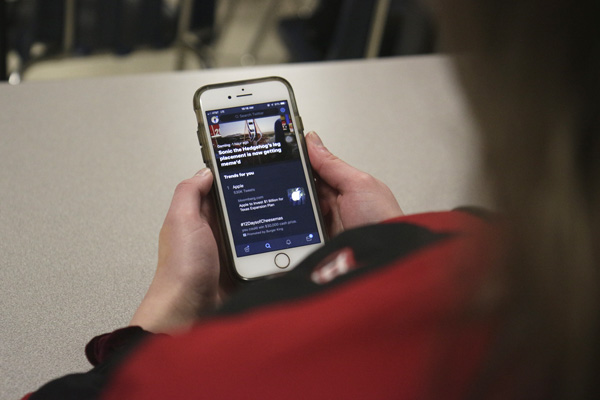 Music to the Next Level : Soundcloud Rap
April 26, 2019
As he taps to the sound streaming from his headphones, he contemplates making a sound of his own. Sophomore Victor Rodriguez scrolls through Soundcloud during class and has a lightbulb moment – one that now shapes the way he views music.
From the thump of a raw beat, to the studio and to millions of ears, music, specifically, rap traveled throughout time. Hip Hop/ R&B reached new heights topping music charts, and even drove people to pair specific dance moves with classic songs like the whip and nae nae, the woah, the reverse and more. Rodriguez hopes to reach people through his music and he's doing that through Soundcloud rapping.
"I saw other artists doing it, and it seemed cool to me because, over the years, I wanted to do something special that other people could not do," Rodriguez said.
Rodriguez hopes to inspire kids through his music and dreams to take his art to the next level. According to a survey done by Inc., 20 percent of students want jobs as musicians. American teens aspire to grow out of the mundane white collar jobs and explore new jobs in entertainment. Teens like Rodriguez represent that growing statistic.
"I have a really big passion for rapping and I hope to inspire many people through my art," Rodriguez said.
"
I have a really big passion for rapping and I hope to inspire many people through my art."
— Rodriguez
Rodriguez started writing poems in sixth grade, but he took it more seriously when he reached eighth grade and realized he had a passion for rapping. Soundcloud become a free-range platform which upcoming singers and rappers use to showcase their talent.
Other students simply let their emotions and reactions to the music do the talking and listen rather than create.
Scattered across his desk lay printed notes, pages of homework and several writing utensils. He takes two deep breaths and stares at his current problem, but he cannot focus. Sophomore Aaron Wu picks up his phone, untangles his earbuds and chooses the first song that comes to mind. He can finally concentrate.
"It makes homework fun and enjoyable when your favorite song is playing," Wu said. "In class sometimes, I listen to music to block out distractions from my peers. I may use instrumentals or classical music to try and lessen the distractions."
Both Wu and Rodriguez use music to their advantage and acknowledge its importance. While one takes music to the next level and creates his own sound, the other simply enjoys listening to his favorite melodies.
"Overall, I hope to teach people that they can do whatever they want to do and be whatever they want to be," Rodriguez said.