With the echoes of the Choir Room booming in his ears, senior Cyle Brown contemplates the values of the music he holds dearly. The choir room became a safe place for Brown to share his feelings, and connect with his peers. 
Using music to help him overcome the loss of his parents, Brown has become an example to his peers through his own perseverance and the help of others.
"I knew there was some depression there," Brown said, "but I was able to clear that out over time with some help."
When Cyle was seven, he lost his father to lung cancer, and he lived with his grandparents for the next three years. This followed Brown losing his mother at age ten from brain cancer. Brown lived with his extended family right after these losses, and his home situation worsened over time. He had no help for his schoolwork or support from his family and so he struggled to find time for himself. The lack of care a child needs during the grieving process can lead to depression and difficulty with self-esteem.
"All the feelings I have; whether it's the loss or the strength that comes from it," Brown said. "I can put it all into music."
"
"All the feelings I have; whether it's the loss or the strength that comes from it. I can put it all into music."
— Cyle Brown
After the loss of his parents to cancer, Brown has further treasured the time he spends with his friends in class. Using Choir as an outlet for his stress and grieving, he has found greater purpose in helping both himself and his peers succeed at their personal goals.
"You can use all of your emotions in Show Choir," Brown said. "Being on the stage lets me show that I'm not held back by those feelings."
After opening up both inside of class and during after school rehearsals, Brown and his situation became a more well-known struggle to his friends. Choir had become his sanctuary, and he gained the support he could not get anywhere else. When senior Jonathan Ake found out about Brown, he reached out and helped him
 into a new home.
"Our home has been a safe haven for good friends before," Ake said, "and we recognized Cyle was in need."
After bringing Brown to meet his parents, Ake asked if he could take up residence. Since March of 2018, Brown has been a part of the family. Ake's mother, Ms. Tina Ake, welcomed Brown into her supportive household with open arms. 
"I just know that he needed our help," Ms. Ake said, "and that we needed to help him."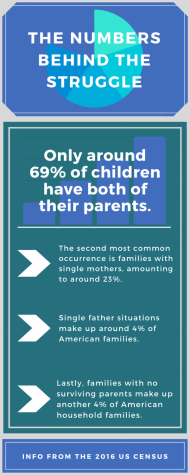 With his inclusion in the home, Brown has become an inspiration to the Ake family. His situation and willingness to push past his own struggles have made a lasting impact on his friends.
"Cyle has been like just another family member for all of us," Jonathan said. "He fits right in, and we all help each other out."
Brown had a second chance at a life with a full family and has since participated in family activities and vacations. He continues to live with the Ake family, grateful for their hospitality.
"They helped me push through my problems," Brown said, "and I've never felt better about my future." 
Brown's previously unstable living conditions relate to millions of separate cases across the United States, but with the support of his new family, Brown found greater personal success. 
"The family has helped me get closer to my goals," Brown said. "It's been a real push in the right direction."
Children and young adults around America have suffered emotional detachment and other illnesses from a lack of parents or parental influence. However, like Cyle Brown, reaching out to others can prevent situations like this as early as they begin.
"It can be tough to find them," Brown said, "but there is always going to be someone who wants to help you."