Mr. Shane Skinner: Love Finds a Way
Walking into an interview, art teacher Mr. Shane Skinner stood in front of a panel of teachers, including one Ms. Mandy Dowd. Mr. Skinner got the job that day in 1999 at Speer Elementary, and he met his future wife.
"I didn't really think anything of her at that time," Mr. Skinner said. "I thought she was really pretty, but that was about it."
When they first met, Mr. Skinner and his wife worked in the same school. He taught sixth grade and she taught fourth. After becoming friends, the couple went on their first date and dated for a while. Then decided to break up after Skinner realized he didn't want to get married and Mandy didn't want to be a lifelong girlfriend.
"To say I was devastated would be a huge understatement," Mandy said. "I made every excuse the first few days to contact him in any way for any reason. Finally, after a few failed attempts to get back together, I decided to leave it alone. Hoping that the whole, 'if it's meant to be it will come back to you,' was true."
After about a month of no contact between the two, a friend set Mandy up on a blind date with an Arlington Policeman. That Christmas Eve, Mr. Skinner went to his sister's house for a party and ended up talking with her about Mandy. The same night, Mandy went to a police christmas ball. Skinner stopped to get gas at a Chevron in South Arlington, and Mandy stopped at the same station, pulling next to Skinner in the parking lot.  
"Shane turned around, and I wish I could have taken a picture of his face," Mandy said. "It will forever be in my mind. He was smiling ear to ear. We stood there and made some small talk. He was asking about my family and I was asking about his. He then asked if I wanted to go talk at IHOP. I was hesitant, but went anyway. We sat at IHOP and talked for hours. I was trying to remain strong. A few times, Shane's eyes welled up with tears as we caught up with each others lives."
While eating, Mandy's police officer boyfriend tried to contact her multiple times, calling her and texting. Eventually Skinner found out about the other man. After the two finished up at IHOP, Mandy needed to get home and cook a broccoli and rice casserole for Christmas dinner. She asked Skinner to come and keep her company. For hours, the two talked and caught up on each others lives, and Skinner left late that night. Mandy remembers telling Skinner that she planned to go on living life as if nothing had happened and that she refused to wait around any longer.
"Then I started thinking," Mr. Skinner said, "'I miss her. Were we supposed to be together? Maybe, maybe not.'"
On Christmas, after Mandy had already gone to bed, Mr. Skinner drove over to her house, played 'Home to You' from the car as he drove up and banged on the door. After looking through the blinds and seeing Skinner standing there, Mandy answered.
"When I opened the door, he was standing there," Mandy said. "He stood there, with tears in his eyes, and he said, 'I love you and want to spend the rest of my life with you. I don't have a ring, but I want to marry you.' I hugged him and we cried together."
Mr. Skinner proposed a month later by reading a poem over the announcements at the school where Dowd worked. He then came during a fourth grade assembly, dropped to one knee and proposed.
She said yes.
"When I broke up with her, she now calls it 'the two months you lost your mind,'" Mr. Skinner said. "I agree with her, but if we hadn't gone through those two months, we wouldn't be together now. Thinking back on it, I'm glad we did break up, and I'm sure she would say the same thing. I'm glad we did break up and have that time apart so that we would know that we wanted to be together by choice, not because we're expected to. We had our time apart and we learned from it, and it really made me appreciate her more when she wasn't there. Knowing that she will be with me the rest of my life, I wouldn't have it any other way."
View Comments (1)
Donate to The Rider Online | Legacy HS Student Media
Your donation will support the student journalists of Mansfield Legacy High School. Your contribution will allow us to purchase equipment and cover our annual website hosting costs and travel to media workshops.
About the Contributor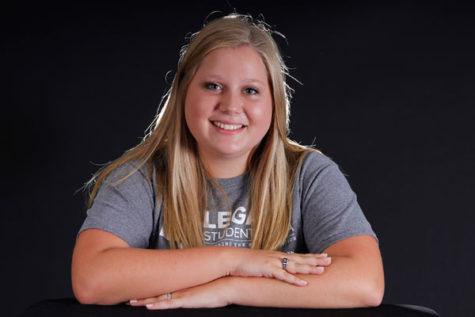 Kathryn Pedroza, Editor-In-Chief
"Kathryn with a K is so much better than Kathryn with a C"- Anne of Green Gables. Anyway, my life can be summed up in three things: showtunes, books and...