Working Overtime
Students in Virtual School Help Younger Siblings While Parents Work
A loud sound erupts the silence that flows through the house. Senior Alejandra Jacquez rolls over to her other side to turn off the buzzing coming from her alarm. She gets out of bed to prepare for the long day ahead of her. With clothes thrown on and breakfast prepared, Jacquez prepares herself for the five siblings that will soon take her full attention. 
"This whole situation makes me feel a bit overwhelmed," Jacquez said. "So many changes in so little time, not being able to do everything we'd like to since we're stuck at home. But we're also hopeful." 
Once the COVID-19 cases dropped in Texas, Gov. Abbott released news that allowed businesses to reopen in hopes to save the economy. Apart from the many essential workers, Jacquez's mother returned to work as a housekeeper to start supporting her family once again. 
"It's been like this for a while. I've become used to it," Jackie, a younger sister of Jacquez, said. "Sometimes I wish she was around a bit more, maybe take more of a break, but that can't really happen in our case."
"
The hardest part? Making sure I'm fulfilling my responsibilities to my classes and my siblings at the same time."
— Jacquez
When Gov. Abbott told the media schools would not open until three weeks after their original start time, it left the Jacquez family in a tricky situation that had only one outcome. Jacquez took one for the team and parents her five siblings ranging from the ages 6 to 15. Her daily schedule is filled from the morning to night, making sure she cooks enough food to fill hungry stomachs, that each sibling makes it on time for all of their classes and they're all taken care of while being at home without their mother. Attending to the needs of her siblings though leaves only a portion of dedicated time for her own schoolwork. 
"The hardest part? Making sure I'm fulfilling my responsibilities to my classes and my siblings at the same time," Jacquez said. "It can be a tad exhausting." 
Taking care of the five children has ripped away some focus for Jacquez. With a lot of time put into ensuring they're okay, she has lightened her load of classes to balance the schedule they all share. She sets alarms for each child so they never have to worry about missing a class and even though she deals with her own workload, lending a hand to help them with their schooling is a top priority while she's in charge. 
"I mean, it's normal for me. She's been doing that for as long as I can remember, being the oldest and all," Jackie said, "so I just feel as if it's a part of my normal." 
"Normal" seems to have left our world at the beginning of the year. However, what remains the same in the Jacquez's lives is the love and care they have for one another. As most siblings do, a few head-to-heads happen under the roof during the day, but for the most part, Jacquez successfully plays her role as an honorary parent and continues to show her siblings love. 
"The only advice I could give is hold on and do your best," Jacquez said. "Our cards have been dealt, so we have to make the most of our situation, but – it'll all be worth it in the end."
About the Writer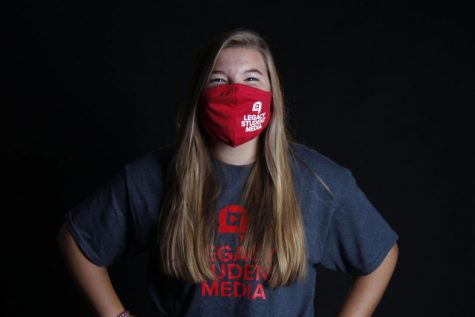 McKenzie Canton, Features Editor
I love to write. Duh, that's why I'm here. Here's a trick though, if I'm having a bad day, get me Chick-Fil-A or a dog or both. I'll love you.