As the doors to the theater opened, Art teacher Pamela Dietrich walked in. She smelled the popcorn being prepared at the concession stand and watched as the workers carefully put food into buckets and trays. As she walked to her seat in the theater she noticed how barren it looked, she sat down and waited for her movie to begin.
On Aug. 14, two months after Gov. Greg Abbott executed phase three of the reopening plan, Texas theaters followed soon after. Dietrich became part of the minority of people who took advantage of the reopening to take part in the movie experience once again. To bring back customers, theaters have slashed prices with tickets now selling for $5.25 at Cinemark.
"I felt safe," Dietrich said. "It seemed very clean and everyone was wearing gloves at the concession stand."
Along with CDC guidelines, Dietrich also noticed new mandatory procedures placed by the theater to ensure the safety of their customers. For example, people had to fill up their own drinks and the theater offered no refills. 
"I don't think [the theater] would ever disappear, but if they did, it would make me really sad," Dietrich said. 
According to The Texas Department of State Health Services, theaters may operate up to 50% of the total listed occupancy of any individual theater for any screening. Dietrich believes movie theaters will come back after COVID-19 as long as they maintain cleaning precautions in the theater. 
"We have a theater room at our house, so that was fine to watch in, but not the same as sitting in front of the big screen at the theater," Dietrich said.       

When theaters closed, streaming services became the next go-to for entertainment. According to Jefferies analyst Alex Giaimo, the percentage of subscribers in the U.S. viewing the service for more than 10 hours a week has soared to 38% from 16% pre-COVID-19. Dietrich also uses streaming services but prefers a movie experience. Similarly, junior Jaiden Lopez, a fellow movie theater lover can also appreciate a good binge-worthy show from a streaming network. 
"Streaming services benefit from the pandemic because they are able to promote their services and get more consumers to opt for more streaming services," Lopez said.
Lopez appreciates the ease of streaming services and believes the reasoning for their growth comes from the increased promotion. Box office revenues have declined dramatically since COVID-19. According to the Nypost.com Box office figures dropped 45%. 
 "More power to them," Lopez said. "Streaming companies are doing their thing, at the end of the day they are a company trying to make money and they are also giving back to us in a sense."
To Lopez streaming services provide benefits like movies and shows at the click of a button. Some of them offer cheaper prices and have a variety of shows and movies to choose from. 
"I do prefer the movie theaters over streaming services," Lopez said, "To me, deep down nothing really beats the feeling of being inside of the movie theater, the smell of the popcorn, the feeling of it, the nostalgia of everything."
Regardless of the ease streaming services bring to the movie experience, Lopez prefers old fashioned sit in theaters. To him, it all comes down to preference. Theaters offer a great movie experience but streaming services offer a larger variety of entertainment options on the go.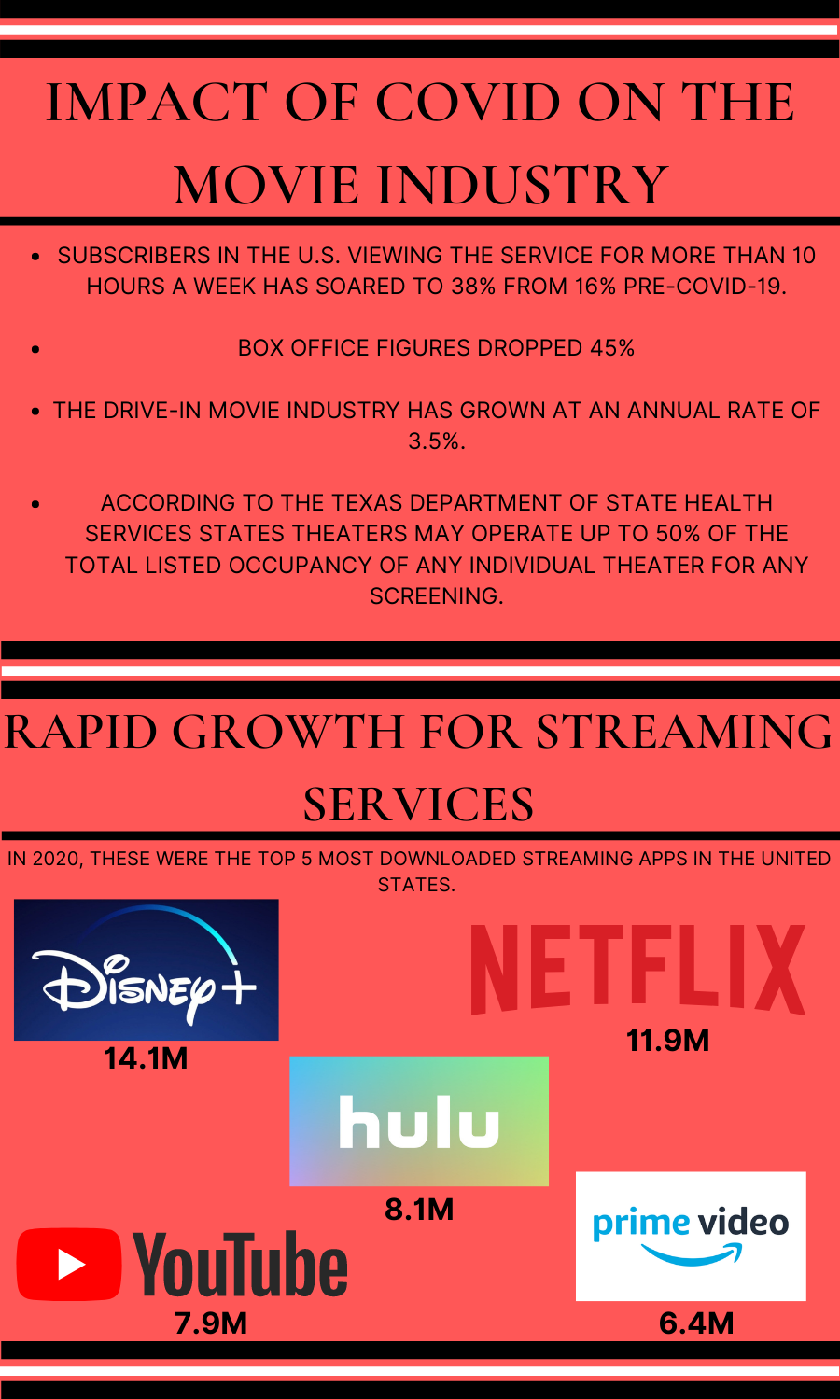 "I have so many good memories of going to the theater with friends and family," Dietrich said. "Plus the popcorn is better there than at home. Microwave popcorn can't compare."
Dietrich likes to watch a movie on the big screen with the surround sound and believes it adds to the movie experience. But not everyone feels safe going back to theaters. Because of fear, options like drive-in theaters became a popular choice since it offered both the entertainment of a movie theater and the safety of distance. Chris Fortune, the general manager of Coyote Drive-In, believes COVID-19 helped in the sustenance of the theater.
"The drive-in experience has not been affected negatively," Fortune said, "It has increased sales because people do want to go out and they feel safer doing it in an open space rather than enclosed like other movie theaters." 
To keep their customers safe,  the drive-in requires masks and installed a handwashing station outside the restrooms to ensure people wash their hands. There have also been precautions taken at their pavilion where only half of the tables remain. They also adapted to a new food delivery service made available through their website. This delivery service will take food straight to customers' cars.
 "Drive-in theaters are definitely going to be a popular choice but being in the Texas heat is not something a lot of people love so I think that walk-in theaters will be fine," Fortune said.
Fortune believes drive-in theaters may come back because people want a movie experience with less risk of contracting COVID-19. According to a 2019 study, the drive-in movie industry has grown at an annual rate of 3.5%. But Fortune also believes people who do not like the Texas heat will go back to sit-in theaters and does not think the movie theaters will shut down anytime soon.
"I think that some people may have visited a drive-in during all of this, and those are fun for a change, but I just don't enjoy them as much," Dietrich said. 
To Dietrich, drive-in theaters do not have the same vibe as sit-in theaters. Especially in the summer months. She believes a sit in theater provides a more comfortable experience.
"I have loved going to the theater since I was a little kid, so I'll always prefer that for a good movie," Dietrich said.