Figuring it Out
Gleaming under the fluorescent lighting, freshman Sydney Keck takes diligent steps to her first-period class. She searches for the pathways to each of her classrooms as she makes it to class on time. After months of learning and testing out the waters, she understands her place at school and finally relaxes within the walls of the large building. 
"I feel better and more comfortable," Keck said, "I know my ways around the school a little more, and I've made friends with upperclassmen who have helped me out a lot."
Since the start of the pandemic, schools went back and forth between online and in-person. When Legacy resumed in-person learning, incoming freshmen found it challenging to adjust to the new grounds. Because the building is larger than junior highs and more students interact with them, students follow different procedures and expectations. Keck, along with other freshmen, found this year more stressful because the virus wrecked the planned routines to figure out high school. 
"I felt overwhelmed," Keck said, "everyone was taller than me and the school was not familiar at all since I've never walked the halls."
Every year, freshmen come in to pick up their schedules before the school year starts, and take the time to examine them and practice their pathways. They meet some of their teachers during, explore the club opportunities and visit with peers their age and above. However, the new protocol did not let freshmen explore their new territory, and it made things harder for them. 
"The hardest part is keeping up with assignments online and stuff retaining to social distancing," Keck said. "It would definitely be easier and more fun if it was a normal high school year."
Along with familiarizing themselves with the new territory, freshmen accommodated online assignments, social distancing, quarantining when needed and wearing masks. This year particularly strains the first-year students because none of the normal high school customs happened. Games required masks for entry and only provided limited seating, theatre productions stayed online for viewers to stream and most UIL competitions moved to next year. Everything that makes high school delightful got taken away before freshmen, like Jacob Greenman, got the chance to enjoy it. 
"I would like to change homework of course," Greenman said, "but also COVID because it makes life harder, and it's just a big slap in the face."
Unlike any other year, students of all grades struggle to make use of what they have. However, this year's freshmen grapple to make sense of what high school feels like without any real experience. As the year moved further along, though, the hallways became familiar, friends bonded over the craziness and cherished what this year entitled despite the losses they uncovered.  
"The whole high school experience is not what I expected just from COVID," Keck said. "It's definitely different with masks and all online stuff, but I've gotten used to it and it kinda became normal."
About the Contributor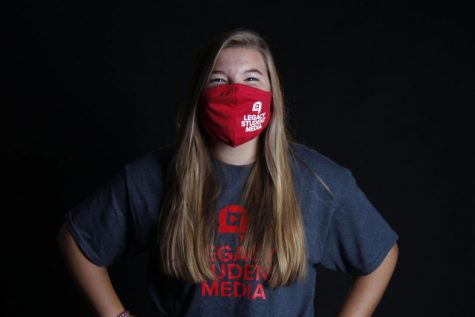 McKenzie Canton, Features Editor
I love to write. Duh, that's why I'm here. Here's a trick though, if I'm having a bad day, get me Chick-Fil-A or a dog or both. I'll love you.