TikTok Challenge Leads to Closed Restrooms, Expensive Damage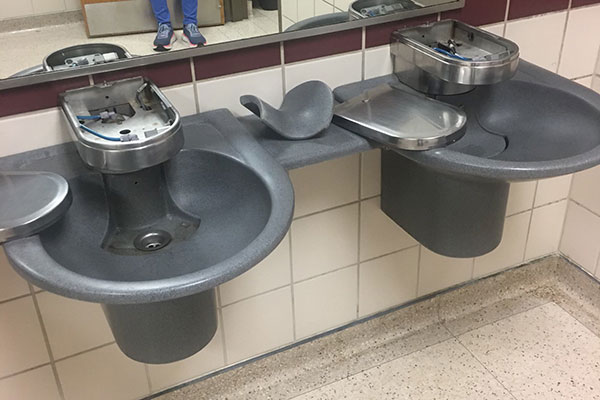 After a multitude of devious robberies or "licks," from the school, Dr. Shelly Butler, principal, was forced to close most bathrooms throughout the school because of extensive damage.
On Sept. 1, a Tik Tok user posted a video stealing a box of disposable face masks calling it a "lick." (A lick is an impressive, rewarding and successful act of thievery.) The video went viral causing students nationwide to steal items from schools as small as hand sanitizer or as big as toilets. 
"I don't like TikTok because I think it's very destructive," Assistant Principal Leonard Cousins said. "I think social media as a whole is very destructive. I think it can be used in a constructive way, but most kids will not use TikTok in a responsible way." 
Because of the trend's influence, students stole toilets, soap dispensers, sinks and stall doors in Legacy restrooms. Other objects such as stair railings and fire alarm coverings have been removed as well. However, restrooms were the main target of vandalism and theft. Several restrooms were closed starting Sept. 21 and will remain closed until repaired. Repairs and replacement products on backorder caused administrators to limit usage or close student restrooms.
"
There is not a designated budget fund for restoring damage like this, instead, administrators are forced to take from the overall fund which would normally pay for events like senior breakfast, awards ceremonies, etc."
"We don't want to keep them locked," Academic Principal Ketura Madison said. "However, we have no choice because students keep destroying them." 
Because of restroom closures, administrators were forced to find alternative locations for students to use facilities. The clinic and library restrooms may be used while maintenance crews repair the damage, which exceeds $7,000. 
"I feel bad for the other kids that didn't do anything wrong," Ms. Madison said. "It's always a handful that makes the whole group look bad."
There is not a designated budget fund for restoring damage like this, instead, administrators are forced to take from the overall fund which would normally pay for events like senior breakfast, awards ceremonies, etc.
"There are other things we could probably be doing for our teachers and students that can't happen because we're having students destroy [the bathrooms,]" Mr. Cousins said. "All that money the TikTok joke cost them, all because they decided to do something stupid."
Administrators have made schedules for each bathroom in hopes of limiting the opportunity to vandalize the bathrooms. The K-Hall bathroom is indefinitely closed until parts can be replaced, although parts are hard to get due to delays caused by COVID-19.
"I feel that it's silly," sophomore Conley Franklin said. "This is a little bit frustrating. I know some people that are very upset because they still have to go to the bathroom."
Students caught stealing or destroying property have been and will be charged with vandalism and theft as well as some school disciplinary actions will take course, such as alternative school and off-campus suspension. Dr. Zelmarian Ready, assistant principal, worries that short-term decisions may make a lasting impact on students' records.
"Students and parents will have to pay for the damage," Dr. Ready said. "[Students] can be charged with a felony offense for vandalism on school property, which leaves a lasting mark on students' records."
Administrators encourage students who see or know about recent vandalism to say something. Anonymous tips can be sent to Crime Stoppers by calling (817) 469-TIPS or texting  "TIP117" plus your message to CRIMES (274637).
Students want the restrooms back open. Another new TikTok trend, deemed Angelic Yields, encourages the replacement of items stolen by students.
"Social media has a lot of power and we really need to move to more positive messages versus something like this. It's a little disappointing. I may be a little bit of a jokester, but this is just too much," Dr. Ready said. "If we could get some kind of positive message, like plant a flower or pick up trash instead of taking a toilet seat, it would be great."
View Comments (2)
Donate to The Rider Online | Legacy HS Student Media
Your donation will support the student journalists of Mansfield Legacy High School. Your contribution will allow us to purchase equipment and cover our annual website hosting costs and travel to media workshops.
About the Contributors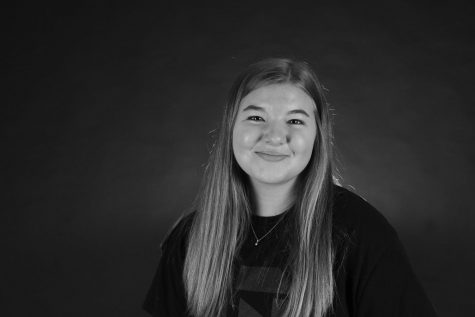 McKenzie Canton, Editor-In-Chief
Feed me Chick-Fil-A, buy me a puppy or both and you'll be on my good side forever.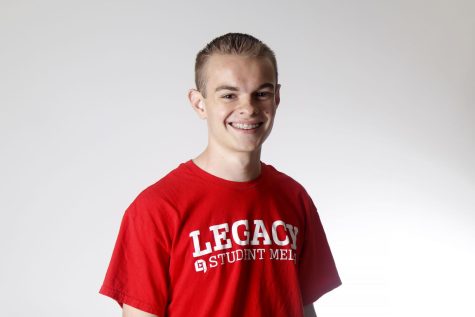 Blake Hinerman, Assistant Editor
"Now, I need you to be careful and efficient. And remember: If I am harsh with you, it's only because you're doing it wrong."