Varsity Football Begins Tough District Play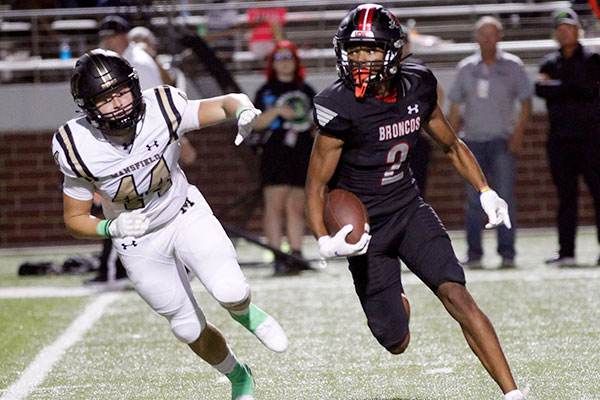 The Bronco football team began their season with a loss against Broken Arrow High School on Aug. 27, 42-13. This game marked Coach Jeff Hulme's first game as a head coach at Legacy and the first of three non-district games before district play starts Sept. 24 against Red Oak. The team went 0-3 in non-district games losing to Eaton High School and Mansfield.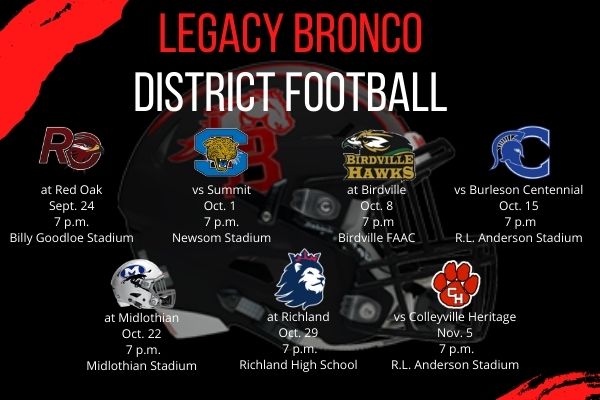 "I think our team is coming together. I think the camaraderie is really good. I think everybody's playing hard," Coach Hulme said. "We're hurting ourselves a little bit throughout the game, [we're] having to overcome some, you know, mistakes, penalties, stuff like that, but that comes with time, so you know I like where we are."
Legacy competes in District 4-5A Division which consists of Colleyville Heritage, Birdville, Mansfield Summit, Burleson Centennial, Midlothian, Red Oak and Richland.
"[Our district] is a tough one," Coach Hulme said. "You've got some really good teams in Colleyville Heritage and Summit that are probably the top two teams and I think everybody else is battling for third and fourth. I think we can certainly be one of those teams if we take care of what we need to take care of and I think we have a chance to be a playoff team, for sure."
Quarterback Junior Connor Parlin started all three non-district games, throwing for 378 yards over the course of the games. Parlin threw for 200 yards and two touchdowns against Mansfield High on Sept. 10.
"[Non-district] really just helped me to get experience and get comfortable with it being my first year on varsity," Parlin said. "We just have to continue to put in the work. Try to be as best we can in practice and make less mistakes."
Out of the 14-man coaching staff, only five previously coached at Legacy. Because of this, the program takes an entirely new approach and creates a different environment than anything Legacy has had in the past.
"I think we brought in some good coaches, some good men and good role models for everybody," Coach Hulme said. "The coaches do a great job of interacting with the kids and mingling with them, trying to teach them things other than football. And I think that's important."
The Broncos begin the journey to playoffs at 7 p.m. Sept. 24 against Red Oak at Billy Goodloe Stadium. Tickets can be purchased on the Red Oak ISD website.
Leave a Comment
About the Contributor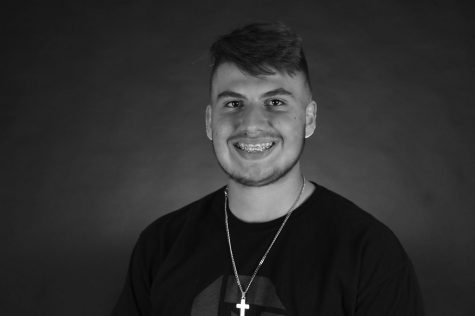 Jonah Pedroza, Sports Editor
"I need a room full of mirrors so I can be surrounded by winners." - Kanye Omari West