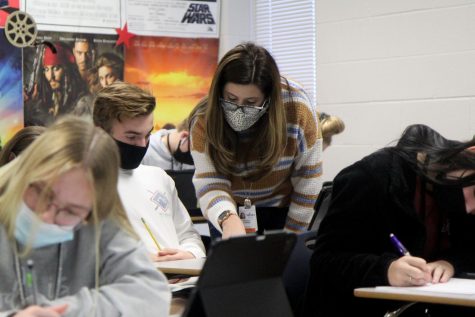 MISD schools and offices will reopen  Jan. 19, after a two-day shutdown that extended the MLK weekend. An uptick in cases of COVID-19 in students and staff across the district and lack of classroom substitutes and bus drivers prompted the temporary closure. This news came as a shock to some, a sigh of relief to others and the rest puzzled.
"The district felt giving everyone five days off would give us all enough time to rest and heal," Dr. Shelly Butler, principal, said. "I knew that [closing the schools] was a possibility. We've been monitoring the number of subs needed at our campus. Also, by watching neighboring school districts maneuver through the same decision-making process we were in, I felt like this would happen to MISD as well."
Even though schools won't be returning until Jan. 19, sports and some fine arts activities were cleared to continue such as the UIL state cheer which sophomore Conley Franklin competed in. 
"
I am happy that there is a break because we get to miss school and it gives people time to get healthy again after getting COVID-19. It does feel kind of strange because it's like we're at a school-related event even though we are out of school.
— Conley Franklin, 10
In order to not disrupt season schedules and the limited contact of small teams, UIL activities and sports were allowed to continue as scheduled.
"I do feel lucky that we got to compete," Franklin said. "We worked really hard on our routine for the past few months and put in a lot of work."
Even though different sports and activities competed, some fine art groups were required to take a break. In spite of an upcoming show and pressing deadlines, theater stopped rehearsing for the performance of 'Shrek: The Musical' after Assistant Director of Fine Arts, Dr. Chuck Roe, shared updated protocols with theater director Jeremy Ferman. Though practice is temporarily postponed, the cast will continue with limited performances Jan. 21 and 22, with a possible performance Jan 27. Ferman canceled the performance originally scheduled for Jan. 20.
"I feel nervous," Mr. Ferman said. "We are not only losing rehearsal time but momentum. There is a build-up to a performance that brings energy and excitement. We are also losing time to prepare. However, we have faith in the hard work and talent of everyone involved to put on a great show." 
While the five-day break gives students and staff an opportunity to rest and get well before returning to school, students are reminded of March 2020 where similar closures and shutdowns began a period of isolation from friends and family. Sophomore Claire Carney hopes classes can resume as normal as soon as possible.
"I think [the closures] brings light to the severity of the situation," Carney said. "We all felt like COVID was finally toning down, and then all of the sudden everyone has it. In that way, I think the break will encourage students and staff to be more cautious."
After a recent decrease in new cases of COVID-19, Mansfield ISD plans to reopen all offices and schools Jan. 1. Over the break, custodial staff deep-cleaned and thoroughly disinfected all campuses and offices and will continue to clean and sanitize high-traffic areas when students return. 
"I'm thankful that my students and staff get a chance to rest and heal," Dr. Butler said. "Our teachers and staff give so much of themselves to Legacy. I know they are exhausted and overwhelmed. [I hope students and staff] use this time to catch up on sleep. Our bodies need rest and nutrition to fight off this virus."