At the end of the day, Ms. Donna Kercher completes the last bit of paperwork on her desk. When she finishes, she looks up to find two students in front of her. They both present the idea of a new honor society. After a half-hour of ideas and proposals, Ms. Kercher decides to sponsor the Science National Honor Society.  
The Science National Honor Society (SNHS) formed in the fall. Senior President Josh Ipock and senior Vice President Aaron Batzer, who love the science program, founded and proposed the idea. SNHS plans to recruit future members through presentations in AP science classes and posters in the hallways.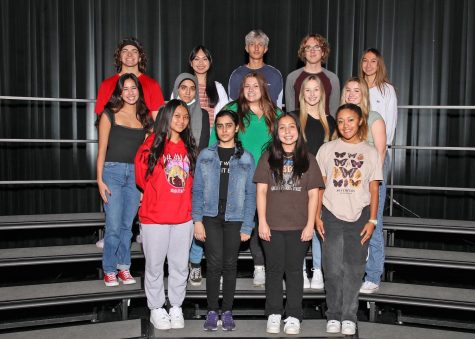 "I personally think all members are very cool people just like me, wink wink," Kercher said. "Their ideas are totally way off the wall than what I would have thought of."
To kick off its launch, the SNHS meets every Tuesday and Thursday at the end of each month to plan a community project. Their first project focused on the environment. Members teamed up with the Environmental Club to plant trees. In the future, SNHS hopes to tutor children in elementary school who struggle with science.
"We will branch out and help others who need help because it's something that makes an impact," Kercher said. "There was a lot of planning that went into this, so it's important this turns out right."
The program contains five officers, each with one role to help maintain and balance SNHS. Ipock and Batzer run the conferences. Ipock prefers studies under biology, while Batzer likes sciences such as physics and engineering.
"Since we have science in our name we're inherently better than the other societies," Batzer said. "We want to go recruit at middle schools as that's where most clubs start recruitment."
Secretary Samantha Opalach records notes at the meetings, which allows SNHS to make future plans and goals. Opalach chose to become an officer because she wants to present herself as a role model and she enjoys leadership positions.
"I wanted to apply community service and combine it with my interest in sciences," Opalach said. "I do think we have a really cohesive team because we're pretty small and because it was a little selective process of choosing people."
Senior Austin Carlson balances the funds and keeps counts of the receipts as the Treasurer. Beyond his role, he tries to role model for others. Carlson loves biology and he plans to pursue a career in microbiology. 
"I feel like science has helped me a lot and I feel like I can help a lot of other people as well," Carlson said.
"
I think it's really great that we got to open up a chapter my senior year. We have a lot of new things coming up that will catch a lot of eyes.
— Claire Millican, 12
Senior Claire Millican spreads the word about SNHS through social media as the Public Relations Officer. She cherished AP Environmental Science and wants to make the world a healthier place. Millican enjoys the conferences and can not wait to see the society grow.
"I think it's really great that we got to open up a chapter my senior year," Millican said. "We have a lot of new things coming up that will catch a lot of eyes."
Although SNHS just launched, they plan to grow over the next few years. Ms. Kercher will keep an eye out for anyone who shows potential and love for science. The society will also work with other societies for recruitment.
"They're actually all a very close-knit group of kids [and] all of them are high achievers," Kercher said. "They're all very self-motivated, self-starting kinds of kids. These are the kind of people who make up a great society."