The final buzzer sounds and the crowd erupts in applause. This Bronco win meant more to the team than any ordinary game. On Jan. 18, head basketball Coach Michelle Morris recorded her 500th game win as a coach.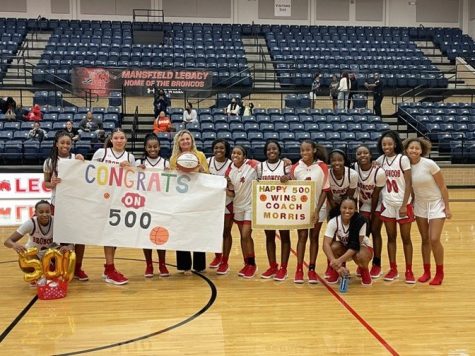 "I'm very honored but at the same time, it makes me old," Morris said. "But you know, that's just something that I really don't really keep up with."
Morris began coaching to make an impact in students' lives. Junior Savannah Catalon has been one of those students as she's played under Morris for three years.
"She's made me feel like she's somebody that can always be there for me and she honestly feels like one of my biggest supporters," Catalon said. "She just supports me every step of the way."
Since moving here from Katy nine years ago, Morris' teams have consistently been top contenders in their district and state. Last season the girls were undefeated district champions for the first time in school history.
"Last year has probably been my favorite [year] of all time," Morris said. "[We have] different kids each year and last year's team just clicked. Being a part of something like that, making history here Legacy High School was exciting."
Although Morris enforces discipline in her coaching, she also knows how to enjoy herself around the team.
"She's goofy with us in a way but she understands us," Catalon said, "but she also knows how to be a coach and when to take things seriously. [It's] that nice balance."
However, the girls aren't staying focused on this win as they continue to make a push for playoffs.
"We should definitely make it to the playoffs," Morris said. "We will take one game at a time and just got to handle business and we'll be fine getting into playoffs."