Band Director Performs at the Midwest Clinic
The Mansfield Wind Symphony hosted a concert on Dec. 12 to preview their performance for the Midwest Clinic. Assistant Band Director Christopher Monasmith played among the many musicians.
After moving to Mansfield three years ago, Monasmith joined the ensemble in September 2019. The group rehearses every week, playing varied pieces, some from composers within the ensemble, to prepare for their concerts every few months.
"I joined band because I like music. For a lot of people, after they graduate college to become a band director, they typically stop playing their instrument. When I graduated college, I felt that I had gotten so much better at my instrument than from when I started college and I didn't want to stop," Monasmith said. "It's just a lot of fun playing music with other people and collaborating with other people in a big organization, whether it's for school or not, so it's nice to have a day of the week where you can go make music with people and make those connections.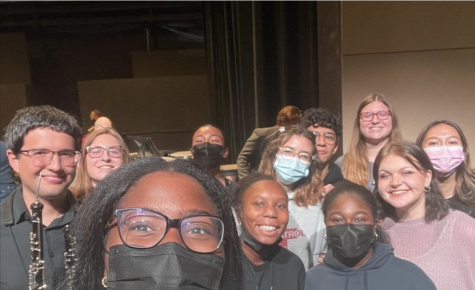 Monasmith said many music educators only teach after college and do not participate in group ensembles, however continuing to play in a band remained important to him. Several band students attended the preview concert including junior Alayah Wilson. For Wilson, having a director in an ensemble who understands the preparation behind a concert benefits her musicianship.
"I do think that it helps to have a band director play in an ensemble because it can teach them more than what they studied in college to become a band director," Wilson said. "It gives them experience and tactics that other band directors can use in the future with students.
In addition to performing in the metroplex, the ensemble performed at the Midwest Clinic International Band and Orchestra Conference. The clinic garners 17,000 attendees from the US and over 40 other countries to perform, teach clinics on instrumental techniques and showcase new products.
"Midwest is one of the things that you hear about in high school and that it's a big deal to go to. It's something that I've always wanted to do and I thought I missed out on the opportunity in college and that I would never be able to have that opportunity after I graduated from college," Monasmith said. "But low and behold the community band I play in got invited and it felt very rewarding. It felt great to play the music we play and I think it was very well received."
Monasmith intends to continue playing in the ensemble for years to come to continue to become a better musician and a better educator overall. 
"[The ensemble] keeps me on my instrument and the things I teach [my students], I get to experience at least once a week because I am having to remember how to play my instrument. If I'm reminded of those things consistently then I can give [my students] better instruction because I am doing it myself," Monasmith said. "Our conductor Brian Merrill is a really great band director, retired from Duncanville ISD, and is just a fantastic teacher. I can see how he teaches us and pick up little tidbits he uses to make the Mansfield Wind Symphony better, I can use it to help make the Legacy Band better."