Abbi Marion: History Coming to Life
History coming to life may seem fantastical to some, but to others, like Ms. Abbi Marion, it's been a reality since tenth grade.
Ms. Marion started teaching at Legacy this year after transferring from Lake Ridge. She's young, packed full of sarcastic comments, and has a witty remark for any situation. Ms. Marion attributes her love for the subject to her sophomore history teacher in 2016 at Lake Ridge High School, where a European family tree assignment had been introduced.
"During that activity, everything just seemed to click and history seemed to come alive. That's when I thought, this is what I wanna do," Marion said.
Marion's revelation led her to attend a school specifically to teach World History, which she joked about on the first day of school. She also shared her first impressions of the campus as well as the reasoning behind her transfer.
"I came for a couple of reasons. The class for one, Legacy is one of the only schools that had an open position for AP World History being helpful when I decided. My siblings attend Legacy right now, and I've had family graduate from Legacy. I felt a little left out. I also know that Legacy provides a sense of community and has a different kind of Texas history compared to other MISD high schools," Ms. Marion said.
Despite Ms. Marion's first year at Legacy, this isn't her first year teaching. She taught at her alma mater, Lake Ridge, for the majority of her teaching journey. She picked up a few indicators of what molds and defines a "good student" and talked about what it is that she looks for in certain people when she's educating.
"You've got to be open-minded," Ms. Marion said, "because history isn't subjective. You also have to be someone who is willing to learn outside of the classroom. I can't teach you everything about everything, it's not impossible. You've also got to have grit, the ability to fail. I can't explain how many students come into AP expecting to get straight A's all the time. That's not how I run things, things aren't going to be perfect."
Ms. Marion has made an impression on her students. Sophomore Jade Vu not only likes Marion as a teacher, but as a person as well. 
"I kinda see her as a mentor. She's someone who encourages me to do my best but isn't overbearing about it," Vu said, "I feel like I can talk to her about anything. I think if she were my age, we'd be best friends.'
Vu, an AP student, explained classes like World History are expected to have a heavy workload since they are college level. However, Vu thinks differently of Marion's class compared to others like it.
"She doesn't overwork us," Vu said, "It's the expected amount for an AP class but it's not overwhelming. When we ask her questions, she gives us an actual answer and helps us understand whatever it is she's teaching us."
AP classes are difficult, between the fast-paced curriculum and the back-to-back assignments, students are easily overwhelmed and drop the class. Ms. Marion, on the other hand, manages to maintain Jade's attention span and spur her to continue learning.
"She teaches like she's telling a story. I actually hate history, but I enjoy AP World History because it's taught in an engaging way that's easy to follow," Jade said.
Although the year has just begun, Marion notes quite a few aspects of her job that bring her joy.
"I love to tell students things they don't know, and I love seeing the looks of surprise I receive when they come to realizations about what wacky historical information I'm feeding them that day," Ms. Marion said, "I enjoy seeing when my students are interested in what I have to say, it reminds me of why I do what I do."
Although Marion doesn't consider herself to be particularly inspirational since she has exhibited no intention of withholding the truth, she is willing to offer a bit of advice for those hoping to go into the teaching field in the future.
"I had started teaching right when COVID hit, so adapting proved difficult and full of accommodations regarding the pandemic. Even though it was a very hectic learning experience for me, I realized that kids are still kids, and they need good teachers," Ms. Marion said. "You don't have to hold their hand every step of the way, but it's your job to walk them through the small portion of their life that you're a part of. You have to remember that."
Leave a Comment
Donate to The Rider Online | Legacy HS Student Media
Your donation will support the student journalists of Mansfield Legacy High School. Your contribution will allow us to purchase equipment and cover our annual website hosting costs and travel to media workshops.
About the Contributor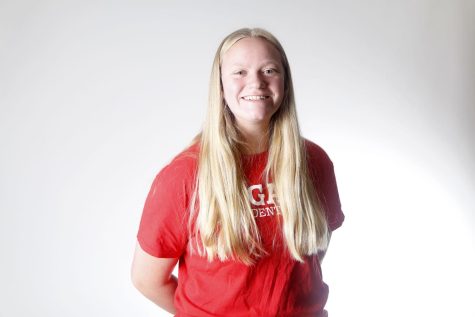 Reese Mallett, Staff Photographer
Awesome has 7 letters, and so does meeeeee!