Phones, Technology, Impact Student Life In and Out of School
School is out. Everyone dashes to their cars, or a bus, or an after-school club or sport. Eventually, they all arrive at one place. Home. When they get there, their lives are greatly impacted because of the effects of technology, and lately, it's bled into lives at school as well.
"
I check my phone like every minute. I usually use it a lot at the beginning and end of each class. Sometimes, if I'm on it all class then I don't do my work and won't focus."
— Genevieve Hartfield, 11
"I check my phone like every minute," junior Genevieve Hartfield said. "I usually use it a lot at the beginning and end of each class. Sometimes, if I'm on it all class then I don't do my work and won't focus."
Hartfield isn't the only one who struggles to maintain focus with the distractions of technology in the classroom. According to a study conducted by Harvard University, 95% of students report bringing their phone to every class, 92% report using it to send text messages during class, and 10% admit to even checking their phone during exams. Harvard is one of the most prestigious institutions in the world and their students check their phones often, so these numbers can be even worse at traditional public high schools like Legacy. Jasmine Capetillo, senior and drill team officer, also finds herself wasting time on her phone.
"I use my phone very often, more than I realize," Capetillo said. "I think it's because I grew up with a phone. It could be something important or someone trying to reach me."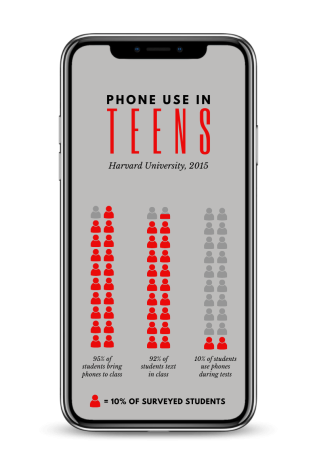 The two main distractions for students in 2021 were text messaging and social media. In a study at the University of Nebraska-Lincoln, researchers found students spend 20% of their time in class using their cell phone for activities unrelated to their work. The main distraction is text messaging, but with the rise of social media, phones have become even more distracting in class.
"I spend most of the time on my phone on social media, specifically TikTok," Hartfield said. "I think TikTok is addictive because of how easy it is to keep scrolling and see new stuff."
TikTok, one of the fastest-growing social media apps ever, has grown wildly since the COVID-19 pandemic. According to a study conducted by the University of Texas at Austin, TikTok, which launched in 2016, gained over 300 million downloads in the first quarter of 2020 alone. This is the most by any app ever, and the growth did not stop after this period. With TikTok growing during the pandemic and then changing the lives of teens even after, social media and technology influence as a whole has done the same thing.
"My technology use has definitely increased since COVID and online school," Hartfield said. "I had to do school online when we had the option so I was already on technology a lot, and I just kind of got used to it."
As a general trend, most children are becoming more used to the institution of technology. In a study conducted by the Pew Research Center, it was found that 65% of parents are comfortable with their child owning their own tablet or laptop before the age of 12. In addition to the use of phones, devices at this young age have created familiarity with most children, reshaping the lives of many generations to come. 
"My brother is 10 and has a phone," Hartfield said. "I think kids are just getting introduced to technology earlier because everything we do is in that form. The world is shifting to it."
Leave a Comment
Donate to The Rider Online | Legacy HS Student Media
Your donation will support the student journalists of Mansfield Legacy High School. Your contribution will allow us to purchase equipment and cover our annual website hosting costs and travel to media workshops.
About the Contributor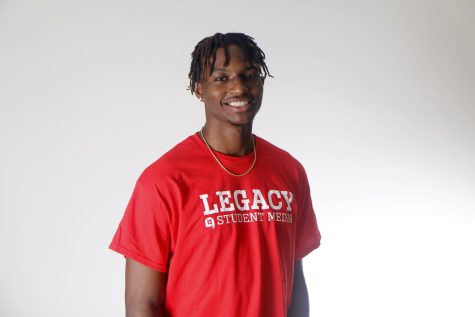 Isaiah Manning, Staff Writer
"I'm just here so I don't get fined." - Marshawn Lynch