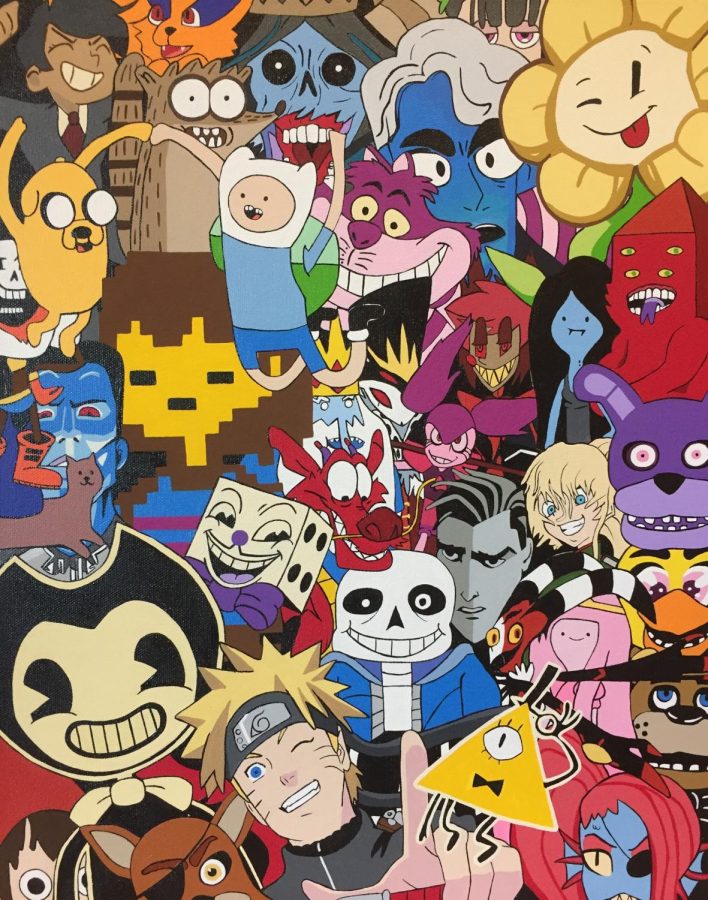 Photo by Courtesy Photo
Ms. Pamela Dietrich: Pop Culture With A Twist
Ms. Pamela Dietrich teaches Art I and Art III and IV Drawing, and in her free time she paints. Multiple galleries and museums display her work like the David Leonardis Gallery, the Kettle Gallery and the Howard Finster Vision House Museum. 
"I have always wanted to be a famous artist," Ms. Dietrich said, "but I knew that was a rare outcome. I decided to get my art teaching degree instead of just a painting and drawing degree."
Ms. Dietrich takes inspiration from pop culture, most of her art consists of mash-ups of cartoon characters in movie scenes. To come up with ideas for projects, Ms. Dietrich thinks of cartoon characters' names and then movies characters' names to see if she can combine the two.
"I personally enjoy Pop Art style paintings. I love bright colors and art that uses references from pop culture," Ms. Dietrich said. "If it makes me laugh, that's what I paint."
Every week, Ms. Dietrich starts a new painting, most of which she does in acrylic, and she often works on multiple projects at the same time. She posts all of her work on Instagram, @pameladietrichart.
"Art is ever-present in my life. I paint every spare minute that I have. I enjoy painting during class sometimes so that the students can see me work. I love when they are curious about what I'm doing," Ms. Dietrich said.
Donate to The Rider Online | Legacy HS Student Media