Student Council Visits State Convention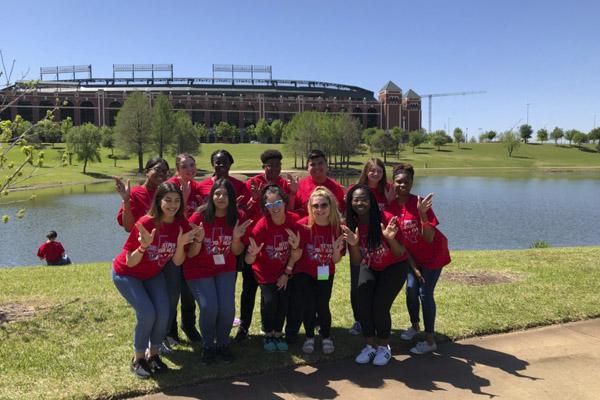 A thrilling aura filled the Student Council room as each member anticipated the annual student council conference. They piled into carpool and headed on their way to enjoy a weekend enriched with a leadership experience that will encourage them to deepen their hearts.
This year's student council state convention hosted by TASC (Texas Association of Student Councils) took place in North Arlington at the Sheraton Hotel. The theme was Deepen Your Heart, Texas. The conference featured breakout and general sessions, tables talks, keynote speakers and more. The event lasted from April 14-16.
"The conference was amazing," Junior Class Secretary Ayo Abiara said. "It was interactive and made me think about life in ways that I didn't think imaginable."
As StuCo members arrived at the North Arlington La Quinta Hotel and settled in before the first event of the night. Later, they headed in groups to the Sheraton hotel. At around 6 p.m., the first general session began. Seats filled the auditorium quickly as music blared from the speakers, and colorful lights radiated across the room. The scene gave off a concert-like vibe. Speakers took to the stage to present this year's conference and left each student striving to positively impact their communities.
"By listening to the various speakers, I was able to revamp the way I view challenges," Abiara said. "Because of this, situations and circumstances no longer frighten me or hinder my leading capabilities."
Each day featured something new. On Sunday, being the only full conference day, members could partake in various activities, all leading up to the TASC night at Six Flags. Students trudged out of bed that morning half awake and headed out to the Sheraton. They enjoyed games until the doors to the second general session opened. Lunch on the lawn overlooking the river created the perfect scenery for pictures, while some schools dined in at their respective hotels. Nevertheless, the bond between all the StuCo members respective of their schools and cities grew every day.
"I really enjoyed TASC because I got to meet new people and kindle friendships that I know will last a lifetime," sophomore Mackenzie Farmer said. "Ultimately I was brought out of my comfort zone."
Later that night, buses, cars, and sedans quickly filled up the parking spaces at Six Flags, which closed to the general public. StuCo members from all around Texas met under a plethora of roller coasters and rides to enjoy a night to remember. Dinner was served on the pavilion and a night of thrill began.
"Six Flags made it exceptionally fun for me," Abiara said. "Even though the convention was meant to better ourselves, I enjoyed that we were able to mix work and play."
"
I really enjoyed TASC because I got to meet new people and kindle friendships that I know will last a lifetime. Ultimately I was brought out of my comfort zone."
— Mackenzie Farmer
To recap on the day, schools split up and partook in breakout sessions discussing various outreach projects, and then table talks which featured representatives from different schools showcasing their efforts to bring awareness to a number of causes. Each session offered new ideas for StuCo members to take back to their schools.
"Some ideas I think we will be sure to implement is how we raise school spirit and make sure that all students feel welcomed and are doing well," Junior Class President Mady Walker said.
The focal point of this year's project was human/sex trafficking. One of the breakout sessions featured a former prostitute who gave up the life the had for a better one with God. She worked to transform an old and abandoned slave house into Rahab's Retreat and Ranch, where women who have been used can come in and have a place to sleep and eat.
"I thought the human trafficking focus was phenomenal," Abiara said. "The massive project shed light on an issue that not a lot of people are aware of."
On Monday, the last day of the conference, the third and final general session took place early in the morning, and let out after three hours. StuCo members then hit the road and journeyed back to their hometowns. Each Legacy StuCo member had something to talk about as the council sat down to afternoon lunch at Torchy's in the Arlington Highlands. They enjoyed the meal while future officers discussed their plans for next year, all while sharing laughs and retelling stories from the weekend.
"The bond I had with my fellow student council members became stronger," Abiara said. "At conference I was able to become re-inspired."
About the Contributor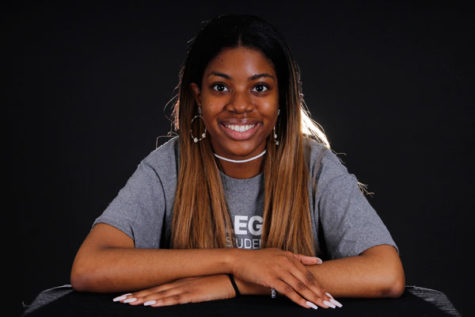 Benita Orie, Staff Writer
Hi, I'm Benita. I'm a senior, and this year's Yearbook Copy Editor. Read our online newspaper, please and thanks.

Life is amazing, it is what it should...