Mady Walker and Lexus Ramos: Divided We Stand
As Student Council elections round the corner, probable candidates scramble to attend the mandatory meetings to get all the necessary information to run for office. Junior Lexus Ramos's sweaty palms grip her application packet as she contemplates going for the position she has always wanted.
Meetings were held on March 22 and March 26 to discuss positions and the application process. Elections will begin as soon as all applicants have submitted their packets. All students must turn in their applications by 3 p.m. on April 6. Ramos and junior Mady Walker both plan to run for Student Body President.
"I am very excited to be running for Student Body President," Ramos said. "While also feeling slightly nervous, I'm glad that I'm going after what I want and hope to do my best."
Ramos has served on the Student Council for more than four years and promises her insight to what a leader truly represents. Walker believes the position comes with major responsibilities and plans to work to achieve them.
"I chose to run for Student Body President because I think that I am a great fit for the position," Walker said. "I am open and ready to help our school out any way I can."
Ramos and Walker have been best friends since middle school and will show support to each other no matter the outcome.
"Lexus is a good friend of mine, and I wish her the best," Walker said. "It pains me that I have to run against her, but I know whoever wins will do a great job."
Both candidates give into their anxiousness during this process but remain excited for what will come above all else.
"I am slightly nervous for the election as I would be for anything else," Ramos said. "When you are running for something, there is no way to know the outcome, but as long as I am confident and do my best then I am proud of myself."
Both Ramos and Walker have begun planning their campaign strategies. Ramos prepares by brainstorming ideas for a video she will create and gathering supplies for posters she will put up around the school. Walker will make posters, as well as buttons. Each class has the opportunity to vote during lunches for their class officers. Every student at Legacy–except for seniors– however, can vote for Student Body President.
"Hopefully they agree with how I demonstrate being a leader and how I can influence our community by becoming Student Body President," Ramos said.
About the Contributor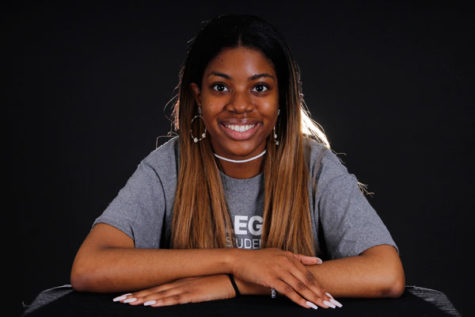 Benita Orie, Staff Writer
Hi, I'm Benita. I'm a senior, and this year's Yearbook Copy Editor. Read our online newspaper, please and thanks.

Life is amazing, it is what it should...