Opinion: Some Schools are Too Big to Compete In 6A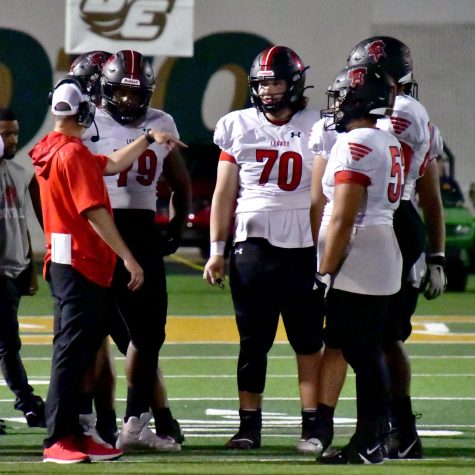 In Texas high school sports, UIL splits schools into six divisions based on school population. 1A, the smallest division, contains schools with a population below 104.9 students and 6A, the biggest division, consists of schools with populations over 2,220 students. At first glance, dividing schools up based on the number of students seems fair, and for the most part, works out. However, problems begin in the 6A division because the existence of very large schools.
Allen High School is the largest high school in Texas with a population of 7,102 students. Allen competes in 6A-District 5 along with Prosper Rock Hill who has a population of 2,500. It doesn't take a genius to see that schools with a nearly 5,000 student difference shouldn't be playing each other. In District 11, Legacy faces a similar problem. Sitting at a population of 2,467, Legacy competes in the football "District of Doom" against Duncanville High School, the 6th largest school in the state. While population doesn't directly affect on field or court performance, it definitely has the ability to impact it. On one side of the equation, we have the Allen's and Duncanville's who are massive schools that are competitive each year for a state title, but on the other side there are schools like Dallas Skyline who only have a few hundred students less than Duncanville, but haven't been competitive in years.
Before the UIL made the realignment announcement in February, rumors of a 7A forming began. An article published by Scorebook Live estimated that the introduction of 7A would impose a cutoff ceiling to 6A, and have a minimum enrollment of about 3,270 students. Based on the population numbers UIL used for the 2022-2024 realignment, 49 schools would make the cutoff. This includes powerhouses such as Allen, Duncanville, Odessa Permian and other competitive schools. By introducing a 7A classification, it increases the competitiveness of not only the schools in 7A, but also the 6A schools. By removing the largely populated schools from 6A it limits the lopsided blowouts seen too often in high school football. After six games, Duncanville ranks second in the state and 15th in the entire nation. Five of the top 15 schools in the state would meet the 3270 population qualification, yet rarely play each other unless matched up in the playoffs. By creating a new classification, we created must see, high profile match ups between these teams.
Games between big schools and regular sized high schools not only doesn't make anyone better, but have a history of athletes getting injured in these games.
"
At some point, we are sacrificing athlete safety for powerhouse schools to play games that don't benefit them."
— Jonah Pedroza
This season, Duncanville faced their toughest competition in the non-district games against the 5A state champion South Oak Cliff and a top 20 school in Florida, Jones High School. During district play, they aren't playing anyone close to their level until the second to last week of the season against De Soto. Until we form a more competitive classification with more evenly distributed districts, we are wasting students' high school careers on both sides of the equation. Students at the large, competitive schools aren't getting any better during the seven weeks of district, so playoffs present even more of a challenge. Speaking from personal experience, playing against these schools and losing just isn't fun for anyone. Although there are pros to it such as telling your kids you played against x player if they go pro or the potential of being looked at by scouts more due to the teams you're playing, everyone wants to win at the end of the day, and that doesn't happen when playing teams like Duncanville.
The rapid population growth in Texas will call for UIL to make an adjustment sooner than later, and until then, we'll continue to see the same handful of teams be at the top of Texas football. If cities like Duncanville and Allen don't want to open up new high schools to evenly distribute students, the creation of 7A is inevitable.