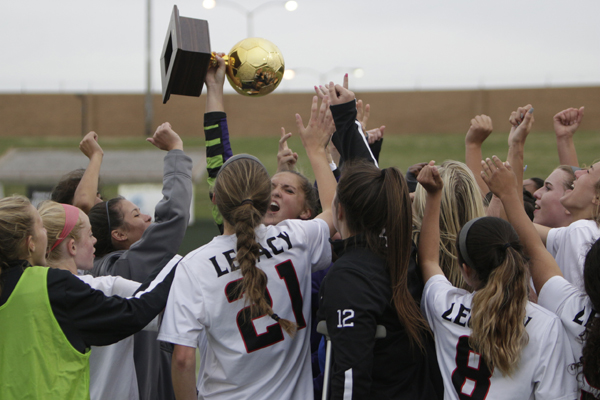 Over the weekend at the Regional 5A Tournament, the girl's soccer team defeated Aledo 1-0 at Memorial Stadium in Wichita Falls and Burleson Centennial 2-0 at Vernon Newsom Stadium. The team advanced to the Soccer State Tournament and will play the 5A semi-final game against Dripping Springs High School on April 18.
The school will provide a free fan bus to the game, as long as they purchase a $7 ticket and bring food and snack money. The bus will leave at 8:45 a.m. on April 18. Parents must contact the attendance office to get the absence excused, but it will still count as an absence against exemptions. Students who do not wish to ride the fan bus may also drive there and back. Parking cost $5 for those who bring personal vehicles. For more information and permission slips, go to Coach Hallak or Coach Morris.
Prohibited items include alcoholic beverages, controlled substances, tobacco, weapons, literature for distribution, pets/animals, balls of any type, backpacks, skateboards, whistles, outside food/drinks, frisbees, vaping products, baby powder or confetti. Live streaming of the game on Facebook, Instagram, Twitter and YouTube will not be allowed. For those unable to attend, NFHS network will provide a live stream to the general public.
The girls will play at Georgetown ISD Athletic Complex – Birkelbach Field at 12 p.m. If the team advances on Thursday, they will play the winner of Highland Park vs. Humble Kingwood Park on April 20 at 11:00 a.m.