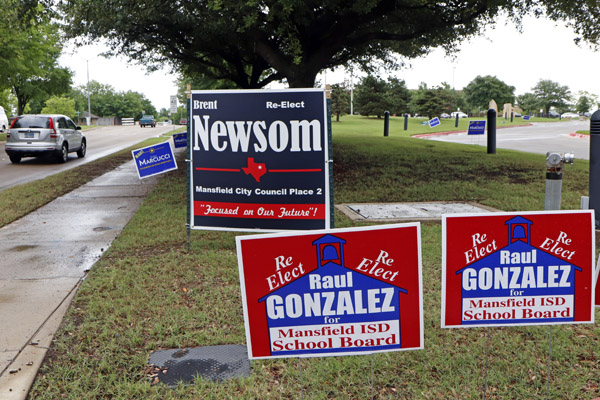 The unofficial votes for Place 3, Place 4 and Place 5 have been counted and winners will be canvassed at a called school board meeting on Tuesday, May 14 at the Center. Here are your school board election winners.
Place 3: Randall Canedy
Place 4: Raul Gonzalez
Place 5: Karen Marcucii
———————————————————————————————————————————————————
Early voting for the MISD school board elections for place 3, 4 and 5 began on April 22 and the official voting day begins on May 4. Polls will be open from 7 a.m. to 7 p.m. and the school board elections are available for anyone who registers and pays MISD property taxes.
Place 3: Randall Canedy and Ifeanyi Ufondu
Randall Canedy
Randall Canedy is the current incumbent for the MISD school board. Canedy received his Bachelor's degree in Civil War History from the University of North Carolina and has worked as the President of Frost Bank in his time at Mansfield. He was a Trustee of Tarrant County College for 8 years and had two of his kids in MISD. Canedy worked with former superintendent Vernon Newsom to create the MISD Education Foundation and is currently an advisor to the organization. Canedy has spent much of his time maintaining budgets and managing the financial matters of the district.
Ifeanyi Ufondu
Ifeanyi Ufondu received his Masters degree from Howard University in Educational Psychology and his Ph.D. from Kings College in London. Ufondu was a teacher and high school administrator in the L.A. Unified School District and currently has three students in MISD. He is a business owner of Beautiful Minds Inc. and advocates for special needs and at-risk students in disadvantaged communities. Ufondu believes transparency in the school district is a major issue that needs to be addressed and works to be a voice for disadvantaged students and parents in the community.
Place 4: Angela Amason and Raul Gonzalez
Angela Amason
Angela Amason has a Networking Systems Administration Degree and has worked as a public servant for nine years. She has a child at Alice Ponder Elementary School and will serve as the President of the PTA for the 2019-2020 school year. Amason currently works as an advocate for children with disabilities and hopes to give children and parents more voice.
Raul Gonzalez
Raul Gonzalez received his Bachelor's of Business Administration Management from UTA and has been on the MISD school board since 2010. Gonzalez has worked as the Director of Administration for Passman & Jones Law Firm since 1989 and was elected as the Vice President of the North Texas Area Association of School Boards.
Place 5: Karen Marcucci and Frank Murray
Karen Marcucci
Karen Marcucci served on the MISD school board since 2013 and graduated from Texas A&M with a Bachelors in Chemical Engineering as well as a Masters of Business Administration from UTA. She currently works as the Executive Director of Facilities and Technology at First Mansfield Methodist and has three daughters in MISD.
Frank Murray
Frank Murray works as a realtor for Keller Williams Realty in the DFW Metroplex area. Murray is a father of four and received the Top Presidential Real Estate Producers award in 2016.