Off-Campus Lunches Benefit Students, District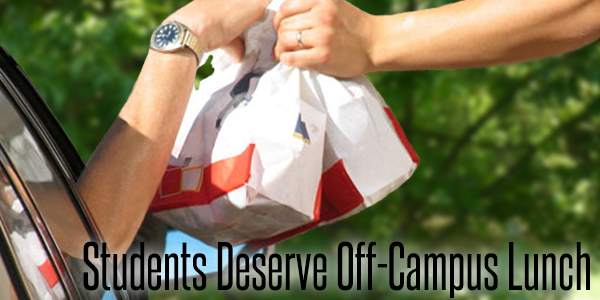 All through middle school, students dream of McDonald's or Taco Bell for lunch instead of school lunches. However, students don't have that opportunity here. All students must stay on campus for lunch and eat what the school provided for them or what they buy themselves. Students deserve to have some freedom. Students deserve to be trusted enough to eat lunch and return to school on time. They deserve off-campus lunches.
If students have the privilege of off-campus lunch, they will gain more responsibility and more experience on how the real world works. If students stand in a cafeteria line everyday, they won't get out and realize spending more money on food everyday costs a lot more. Students, especially those who are about to graduate, need to know what to expect when they're on their own.
By letting students go off campus for lunch, administrators could also save some money and use it for different things, such as new equipment for sports teams. The more students are able to go off campus, the fewer students stay at school to eat school food, which the school sells cheaply. Administrators wouldn't need to buy that extra food and the students who go off campus wouldn't waste the food they do buy. Students would also be helping out local businesses such as Taco Bell and Whataburger by eating there for lunch, and with the economy the way it is those businesses need a bit of help.
Administrators argue they're making sure students don't skip classes by keeping us on campus. They don't trust a majority of students to go get something to eat and come back. However, having students leave their ID cards at the office while they go out and only being able to get it once they return on time can solve this. There's also the issue of our safety. Lunch rush can be dangerous, especially if teens race to get to their destination and back to school on time. But students should be responsible for our own actions. Most teens with a license know the rules of the road and will follow them closely.
Administrators should let students go off campus for lunch. It saves school funding, it gives students a sense of freedom and responsibility and they deserve to be trusted for their 45 minutes of lunch.
Hang on for a minute...we're trying to find some more stories you might like.
About the Writer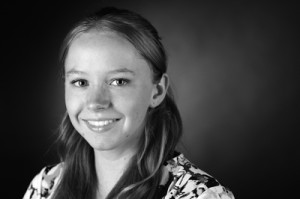 Madison Hunter, Staff Writer
Hey guys, I'm Madison. This is my second year in newspaper and I genuinely hope that I can carry on writing interesting stories. I'm quiet and shy, but...