Track Team Finishes Second & Third at February 26 Meet
Track teammates Taylor Long, Terrence Woodhall and Thomas James all huddled together in triumph at the February 26 track meet with the girls placing third and the boys placing second place. Memorable moments ranged from Long breaking the school record for highest pole vault, to Woodhall getting third place in discus. Woodhall had been practicing his throws in preparation for the meet, and obtained his personal high of 130 feet in practice.
"JV usually throws between 90-100 feet," sophomore  Woodall said. "And I got my best of 130 feet."
As for Long, it's taken her two years to break the record. Her freshman year, she pole vaulted and missed the mat, falling to the ground and tearing her ACL. Last year she reached around eight or nine feet usually, and on Saturday she broke the school record by peaking ten feet. Even after she completed her event, she stayed until the entire meet and motivated the rest of her teammates.
"I was glad I broke the school record," Long said.
Long ended up getting third in her pole vaulting event on Saturday.
"I really like it when I clear a new height," Long said. "Especially in a meet, that's probably the best feeling."
[nggallery id=15]
James Thomas is in the distance event for track. During practice, he enjoys motivating all of his teammates. He even motivates his teammates through blood, sweat and tears. After Thomas ran his 800 meter dash, he vomited from the exhaustion he exerted in the run. Afterward he shared his sacrifice with Head Coach Lacy Beckler who jokingly expressed her pleasure at it and gave him a hug. Thomas credits his success to his favorite coach, coach Beckler.
"She's very hard on us but only because she believes in everything we do and wants to make us better,"  Thomas said.
About the Contributor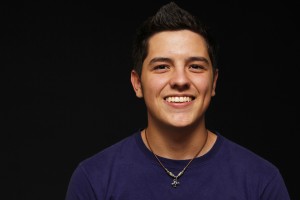 Nick Gross, Sports Editor
Hi, my name is Nick Gross. I am the Sports Editor this year. I love sports. My favorite sport has got to be baseball. My favorite team of course is the...