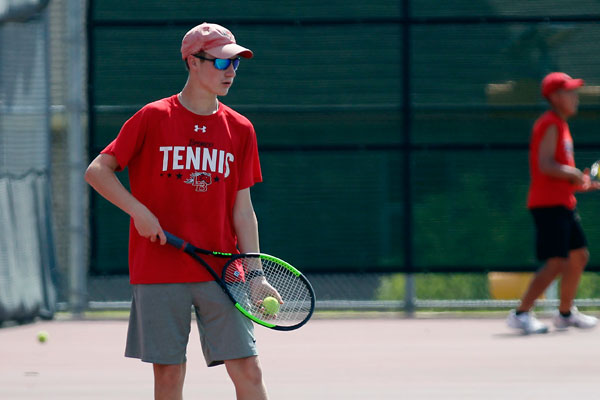 Once he stepped onto the court, sophomore Noah Batson took his last deep breath before serving the ball to his opponent. It was his decision to pursue this sport, and it was his decision to thrive in it.
After almost ten years of multiple sports, from baseball to football to soccer, Batson decided to focus only on playing tennis.
"I knew it could lead me to tons of new experiences," Batson said. "Tennis was a chance to really test my resolve and make some new friends."
Unlike other sports he had played, Batson thought tennis could impact his life in positive ways. He could rid of unneeded stress from years before, and have a lighter workload. And for the first time in years, he could play a sport he had not before.
"I was getting to the point where I had to focus way more on my grades," Batson said. "Since tennis was my only school based sport, it was the only one I even had time for."

Batson's school workload peaked, and he knew he needed to focus on just one sport, or he would have more late projects and both late work and make-up work to deal with. Apart from his school work, Batson worried about his physical condition. He knew that remaining in a healthy state would allow him to succeed and focusing on one sport would allow him to continue thriving.
"Playing other sports kept me in good physical and mental condition," Batson said. "For tennis, I wasn't nearly as tired by the end of games as I would have otherwise."

The lessons Batson learned through practices and scrimmages with both baseball and soccer over the years carried into tennis. He built himself physically and mentally and became an overall better player. He used these lessons to persevere through struggles and hardships given to him, whether a deadline or the next tennis match.
"I would love to play tennis in college," Batson said. "It's not as physical as a sport like football which allows for more play time and if I make it professionally I would have a reason to travel more."

Batson could now enjoy tennis, as well as make sure it never got in the way of his personal and school life. He had rid himself of the downsides of his previous sports, and now looks to the future for his career.
"The path I'm taking in life could be easily influenced by tennis," Batson said. "It's helped to give me so many options, and the people I've met only give me more opportunity."