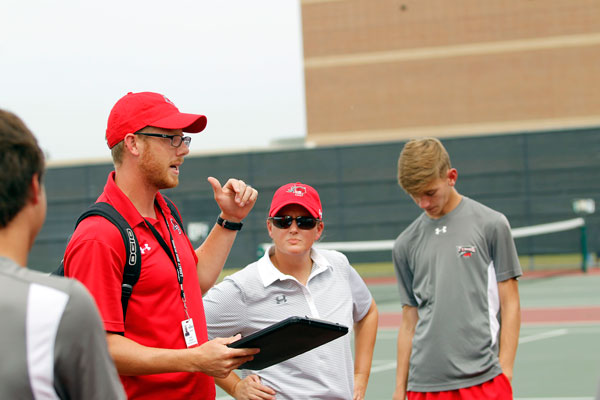 Sweat and dirt reams through her face after a long-fought match. A bright red lanyard attached to a chiseled medal dangles around sophomore Mia Retnam as she completes the first tournament of the spring.
Varsity tennis began their spring tournament season after traveling to regionals last fall. Head Coach Chad Dozier believes it's not too big of a change, but likes the fact that it gives a chance for his players to key-in on one type of match.
"For us coaches, it means a lot of driving, but it's cool for kids because they have four matches or so," Coach Dozier said. "They only have to focus on one event likes solo's or doubles, so we really get some pretty big games."
The team has had plenty of big games recently. Making it to regionals has almost become traditional for them. Coach Dozier thinks being there long enough builds up a name for themselves.
"We've gone to Regionals the last four years and even the last three years during our team season," Coach Dozier said. "So, I'd definitely say there's an expectation rather than just 'we did it'."
The transition from fall to spring season isn't overwhelming for Retnam. She believes the team will live up to their name and do what they usually do.
"Instead of after school we get to miss the whole day and play as many games as possible," Retnam said. "We usually get medals. I think we'll do pretty well."
But the road to regionals stretches with almost a full season ahead. Coach Dozier doesn't care if they're in the first match or the last match, as long as his team competes.
"We have four more tournaments including district," Coach Dozier said. "I want to go to Regionals but our district is alot stronger than it has been in the last couple years, but I still think we'll take some people. As far as regular tournaments, you've got to compete every time even if you're playing for last place."  
Their next tournament will be Friday, Mar. 9 at Chisholm Trail High School.