Tim Madigan Talks To Juniors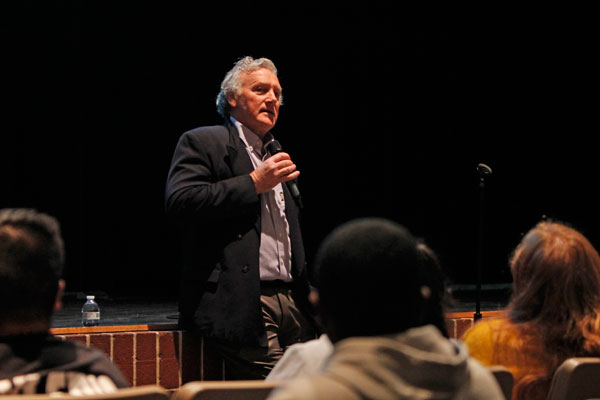 As students file into the PAC during second period on Thursday, Feb. 14, a screen above the stage displays a yellow and brown book cover titled: The Burning: Massacre, Destruction, and the Tulsa Race Riot of 1921. The author and speaker, Tim Madigan, stands below it and observes his audience of students walk into the PAC.
"This is in Tulsa," junior Kathryn Garcia said as she took her seat and read the screen. "Dang, I go to Tulsa all the time."
AP US History teacher Michael Keel stands with Madigan and AVID teacher Jennifer Roberts at the front of the room. The teachers talk amongst each other, but Madigan seems quiet and reluctant to join the conversation. He nods to what the other two say, but keeps to himself.
Students enter the PAC until the middle section of seats fills up halfway. They talk to each other as they wait for the speech to begin. After students settle in their seats, Coach Keel stands in front of the stage with a cordless microphone.
"This is not the time to study for another class," Coach Keel said. "We're here for this today. We're very lucky to have a guest speaker. It's a great opportunity, so please do what you're supposed to."
Coach Keel hands the microphone to Ms. Roberts, who introduces Madigan. Madigan's son went to Legacy, and Madigan spoke to other classes before about his friendship with actor Mr. Rogers from Mr. Roger's Neighborhood. However, Ms. Roberts heard him speak at TCU about the Tulsa Race Riot of 1921 and wanted students, especially juniors, to hear him on this topic.
Madigan stays on the floor of the PAC as he talks. He walks up and down the left aisle as he introduces himself, then comes back to the front. He begins his speech with a disclaimer.
"This is going to be hard. It's going to inspire a lot of uncomfortable feelings," Madigan said. He paused, sighed, then continued, "I know it did for me, and continues to."
As Madigan speaks, he keeps one hand on the microphone and uses the other to gesture with the words and stories he tells. He speaks about the Tulsa Race Riots of 1921: an event in which mobs burned businesses owned by black residences, destroyed an estimated 1,256 homes and killed at least 36 people. Historians consider the incident one of the deadliest riots in US History.  
"I think we're all racist on some level," Madigan said as he told his story.
A mutter moves through the crowd after his comment. People turn to each other and discuss the legitimacy of his comment. Madigan continues his speech.
The slide switches from his book cover to a picture of a white man during the riots.
"That could have been my grandfather," Madigan said.
After Madigan describes the harsh realities of the race riot, he expands on the theme of racism in the United States, Texas and Mansfield in the 20th century. By the end of his stories, a dark feeling sets into the room. Madigan, however, ends his speech with words of encouragement.
"It's you," Madigan said and gestured to his audience of students. "Here are the instruments of our healing."
The corners of his mouth turn up into a discrete, but shining, smile as he concludes his speech.
About the Contributors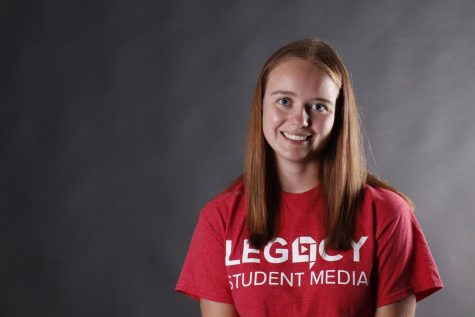 Brinley Koenig, Editor-In-Chief
Hey, I'm Brinley. I like to watch Gilmore Girls, drink overpriced artesian water, buy things I don't need, and pretend I have the time and money for...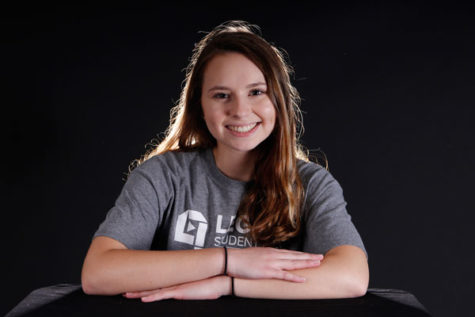 Kristen Bosecker, Social Media Editor
My name is Kristen Bosecker and I am the Social Media Director. I pole vault and like to make people laugh. Follow me on twitter @thisismrskris