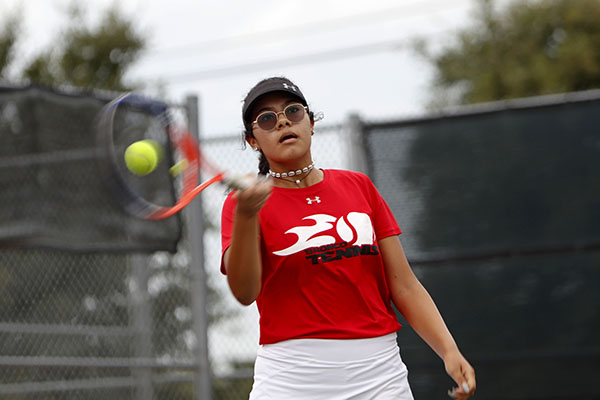 Legacy Tennis closed out their 2019 Fall season strong, undefeated until losing a close match against Grapevine 10-5 at Area Thursday, Oct. 17. The team blazed through District with a 7-0 record and won Bi-district against OD Wyatt with a score of 10-0. 
"I think we did really good it's just experience. We got put in a situation where we were playing a team that had state-level experience for many years," Tennis Coach Redwine said, "and it wasn't that they were necessarily better than us. They just had more experience than us and I think that got them the win."
The team improved throughout their season on and off the court. Players hosted a team dinner every Monday night before a Tuesday match to improve team relationships and keep spirits high. Varsity Tennis Captain Brayden Martin, 11, believes the team grew closer this season and hopes for even more growth in the future.
"I think we've been really close, especially this year," Martin said. "I think we could be a little closer but I like the way it is right now."
The team's individual season will begin in the spring. This season will focus less on the team as a whole and more on individual players and their ability to advance in their matches. Coach Redwine remains optimistic but believes it is too soon to predict the outcome of the spring season.
"It just depends on who we run across," Coach Redwine said. "You never know, you kind of think you might have an idea of how far you're gonna go, but that's why you play it. On any given day anybody can beat anyone else."