Nontraditional Ways To Spend Thanksgiving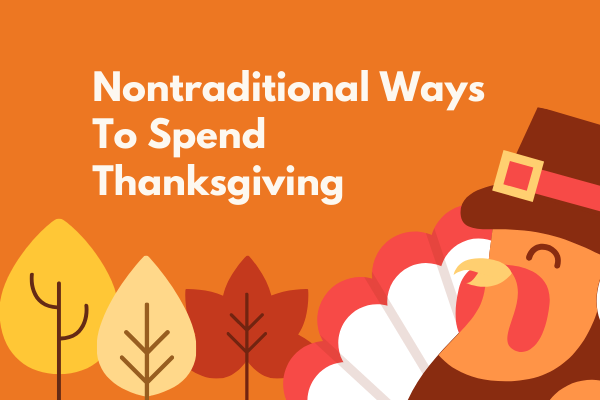 Thanksgiving is a much-loved holiday. However, the traditional large meal, awkward family discussions and football games can become boring. You can have a unique celebration through many nontraditional, but enjoyable, activities.
Go to a sit-down restaurant 
Cooking a meal for the whole family takes a lot of work. It takes hours to prepare a turkey and sides, and the clean-up afterward is painful and the dishes pile up to scary heights. Instead of going through this agony, let someone who gets paid do it instead. Restaurants such as Applebee's, Bucci Di Beppo, Cracker Barrel and Chili's can provide meals and quality time for the whole family.
Friendsgiving
Thanksgiving is a time to give thanks for the important people and things in your life, even if they are not family. Get a group of friends together and have a "Friendsgiving" instead of the traditional family dinner. If each person brings one dish, there will be more than enough food for everyone to have a memorable thanksgiving. 
Volunteer somewhere
Many food banks and mission centers provide dinner to the less fortunate on Thanksgiving Day and they need volunteers to help their efforts. Local food banks include Mission Arlington, Tarrant Area Food Bank and Mansfield Mission Center.
Set up Christmas decorations 
As soon as Thanksgiving ends, the Christmas season begins. Eat a big breakfast, express your gratitude, and then get to work on celebrating the greatest holiday of the year.
Invite someone who doesn't have local family
Thanksgiving is a time to give thanks for loved ones, but not everyone has a local family they can celebrate with. Invite a family friend or neighbor who does not have family nearby to participate in your family's festivities. This will create a new dynamic and will make their holiday more joyful.