Patrick Casey: The Beginning Of A Dream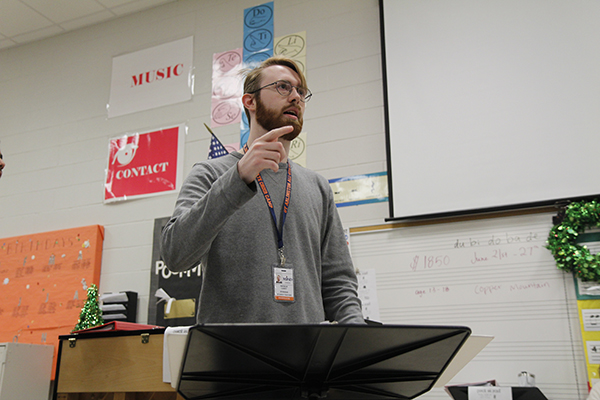 Students circle the piano centered on the PAC stage as Mr. Patrick Casey sings music with the cast of the winter musical. Rehearsals over the various songs in the winter musical or practicing with the choirs, he instructs the students just as a teacher with years of experience would.
Casey works as a student-teacher for the choir program and teaches from morning to afternoon in rehearsals and lessons with the choir and theater students. Casey attends the University of Texas at Arlington and will graduate with his Bachelor of Music with Education certification on Dec.13.
"I went into college knowing I would want to do music but not knowing what I wanted to do with it," Casey said. "I realized I wanted to do something with teaching, so I switched my degree." 
UTA professor John Wayman recommended Casey to apply as a student-teacher for Legacy, so he went on eleven choir observations and decided to apply for the job. Once hired, both choir teachers, Mr. Josh Powell and Ms. Lauren Lafferty, incorporated him into classes and after-school activities.
"It's been really awesome," Powell said. "He's a really great young teacher and I'm proud of all his growth and he's an all-around cool guy."
Since the age of seven, Casey has felt the performer spirit. Musical theater sparked his interest in the performing arts and influenced his decisions in what he wanted to study in college. Though he strives to become a performer, he would also like to teach.
"
I like exposing myself to new opportunities. Saying yes to [new] things is the best way to go about life,"
— Casey
"In the beginning, I was observing Powell and Lafferty on how the class runs and what they wanted to be done and seen," Casey said. "Currently, I teach warm-ups, sight-reading and songs to the class."
When the Legacy Theater winter musical "Suessical" began rehearsals, Casey started rehearsals with the cast on the many songs within the show. Not only did this consist of 3 hour-long rehearsals, but it also went on for two weeks after school.
"I never realized how much of a commitment being a high-school director was," Casey said. "I never imagined how much time and effort it would cost."
Although Casey has only worked with the students for a short amount of time, they have connected and bonded to form a deep teacher-student relationship. Freshman Megan Thornhill received help to grow accustomed to the choir environment thanks to Casey.
"He's like a normal choir director. He's doing really well," Thornhill said. "He's a really big help in the choir program and he's got a bubbly personality that everyone loves."
Casey applied for his master's degree in musical theater and utilizes his time at Legacy to learn all he can as a teacher. Casey will leave campus Dec. 6, but plans to return for choir and theater performances. 
"I like exposing myself to new opportunities," Casey said. "Saying yes to [new] things is the best way to go about life."